A platform for students to access higher education and degree-granting institutions is provided by the Odisha state's Student Academic Management System (SAMS). Correspondence, post-graduation, teacher education, B.Ed., etc. are all covered by SAMS to make the process simple and uncomplicated for students.
Earlier, students had to visit their selected schools or colleges in the past to be admitted to continue their studies. Parents and students had a difficult time with the offline approach. As a result of the Odisha government's introduction of the SAMS Odisha Online Portal, more students are now choosing to enroll online rather than through the more traditional offline approach.
Students and institutions in Odisha can register online for a variety of services through this portal, which is for both parties, students as well as institutions.  
Details of SAMS Odisha Portal
Service
Student Academic Management System (SAMS)
State
Odisha, India
Objective
Single Window System Online based admission for Junior / Secondary School and Degree Colleges
Beneficiary
Students of School & Mass Education TE & SCERT
Helpline (Toll Free)
18003456770
155335
Official Website
samsodisha.gov.in
Benefits of SAMS Odisha
Let us have a quick look at the benefits that are offered to the students and institutes through this online platform before moving on to other aspects of the Student Academic Management System Odisha (SAMS) and exploring further.
Benefits for students
Following are the benefits of the SAMS exclusively to the students
Receive regular updates from SAMS regarding admission and key dates.
To apply to all institutions, just enter student information in the Single Application.
Learn about the institution's offerings at different grade levels and all of its details.
Apply to multiple state-based institutions using one Common Application for admission
Before submitting an online admission application, be aware of each institution's eligibility requirements.
Choose the Institute of your choice, keeping in mind its proximity and cost.
Benefits for Institutes
Following are the benefits of the SAMS for the institutes
There is no need for labor because all admissions and paperwork are handled electronically.
Institutions can use the internet to handle their admissions and intake procedures.
Student yearly data is managed through a single database for easy record checks.
Obtain an immediate list of merit students and unique categories for simpler choosing
There is no need for an admissions card, form completion, or manual verification.
Also Read: HRMS Odisha Portal Payslip 2022, Login Salary Slip at hrmsodisha.gov.in
Eligibility
Candidates from Odisha state trying to get admission in higher secondary schools or Degree schools should check the eligibility criteria mentioned below:
Must be a citizen of Odisha state
The applicant must take the Class 12 examination via Higher Secondary Education Odisha.
The student must pass their exam in all the subjects.
Forms
According to the type of education, the SAMS Odisha has divided the admissions process, making it simpler for institutions to log in and for the timely selection of students.
The higher education degree and post-graduation section is for students wanting to pursue higher education
School and mass education are for the students who are moving to Europe in their Class 12.
Skill development and ITI, Diploma is for students wanting to get admission into the industrial type of education after secondary education.
There is a youth service and sports section for students wanting to get admission in the field of physical education.
SAMS Odisha Admission Process
Browse the official website of samsodisha.gov.in.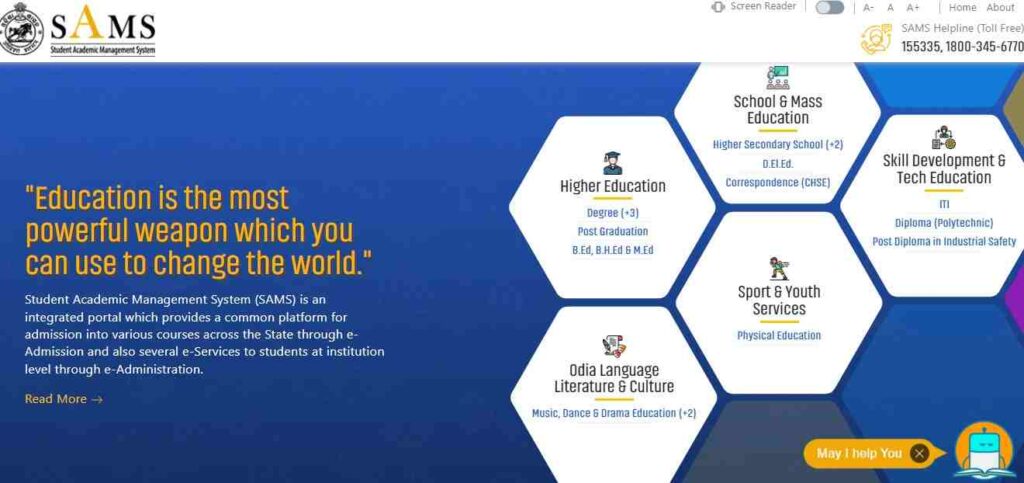 In the options click on the "Higher Secondary or Degree course".
Click on the "Existing student login" and a student login page will open.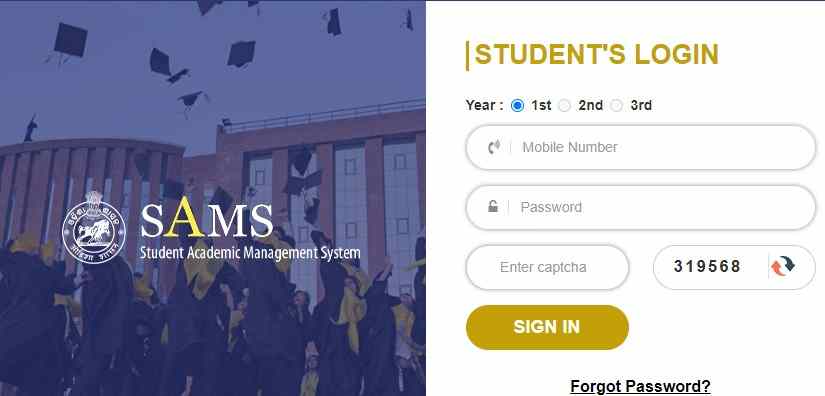 Enter the details that are required and you will be able to access the student page.
Fill up the application form by entering proper details and uploading documents.
Upload a photograph as per the criteria and verify all the details before submitting.
Now send your applications to your desired institutions in institute selection.
Proceed for fee payment. 
The student successfully completed the SAMS Odisha Admission form, and based on the section, the Institute will get in touch with the student using the information they provided. As a result, students must visit the institute to submit their paperwork in person and apply for admission with a letter of intimation.
SAMS Odisha Student registration and login
To take advantage of the online benefits, any student who is applying for admission to upper secondary and degree programs must register with SAMS Odisha. To register, make sure you click on the links below.
Open your browser and go to the official website
For quick links to higher secondary courses, click on "Degree Course"
Select "New Student Register". Wait for the registration page to load before registering.
Fill out the columns with your name, phone number, and email address.
To confirm your identity with a mobile number, click "Generate on OTP"
To access the SAMS page, set the password after the OTP is verified
To access, enter your mobile number and choose a password for the Login page.
SAMS Odisha notification
The selection of students for admission may be based on a merit list, with each applicant's information from the online applications automatically sorted. Thus, SAMS Odisha calls the chosen candidates and advises them to pay the college fee for the remainder of the admissions process using the following means of communication.
SMS Text Messages Notification
Email Notification
SAMS Portal Notification
Selection Notice from College Notice Board
Toll-Free number 1800 345 6770 or 155335
SAMS Odisha documents
Once the candidates have got their names allocated in the institutes, they must have the following documents ready.
School Secondary Marksheet
Higher School Marks Certificate
Bonafide Certificate
Migration Certificate from Institute
Sports Certificate if applicable
Transfer Certificate from Previous School or Institute
Disability Certificate if applicable
Migration Certificate from Institute
Caste Certificate if applicable
These are some important documents that should be carried along and these can also increase your chances of weightage during selection.
Also Read: Madhu Babu Pension Yojana: Application, Track Status at ssepd.gov.in
FAQ's
Can I pay my SAMS Odisha admission fees online?
Once a candidate is shortlisted through the online admissions process and when the institute gives its approval, applicants can use the online payment link to pay the admission fee and bring the recognized receipt with them when they visit the campus in person for final admission verification.
Is there any limit in selecting an institute during SAMS Odisha admission?
The registration fee for the general category students is Rs. 275 and for SC & ST category they may charge Rs. 175.
Can I withdraw SAMS Odisha admission after online selection?
If a candidate wishes to withdraw his or her application, then it should be done before the selection list is released. Otherwise, the institute will automatically remove their name if they don't show up at the final verification.
Is SAMS Odisha admission process selection based on the reservation?
Yes, according to the state of Odisha's reservation percentage for candidates from lower castes, certain candidates received seats according to their caste. Additionally, candidates with disabilities are given preference along with their selection criteria marks. The selection process is based on the reservation category.
Do I have to submit documents offline as well if selected from SAMS Odisha?
Yes, all the students that are selected are required to submit the documents offline by going to the university in the final verification process.