How to Pay Tamil Nadu Electricity Bill Online at www.tnebnet.org/awp/login without registration.
TNEB Bill Payment without Registration
Procedure for paying Tamil Nadu electricity bill online: Tamil Nadu electricity board is responsible for power generation, transmission and distribution throughout the state, and it controls the state's power supply. The government of Tamil Nadu owns the power production and distribution firm known as Tamil Nadu Electricity Board. The online payment of power bills has now been made available throughout the state by the Tamil Nadu Electricity Board.
Citizens from Tamil Nadu will no longer have to wait in long queues as it has made it very convenient that you can simply pay the bills online sitting at your home or anywhere in the country with the help of the internet. Following are the steps that one must follow to pay the electricity bill in Tamil Nadu online.
Tamil Nadu Electricity Board (TNEB) Online Payment
Following are the steps to pay the Tamil Nadu electricity bill (TNEB) online
Visit the official website of the Tamil Nadu electricity board online – https://www.tnebnet.org/awp/login.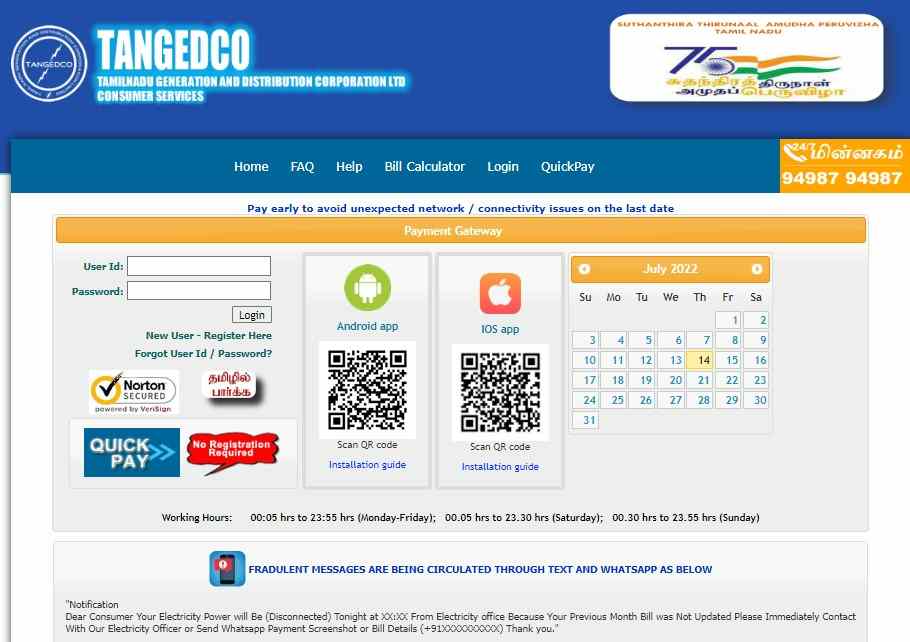 If you are a registered user, then you can simply enter your login details and if you are not registered, you will first have to get registered to pay the electricity bill.
If you are not registered, then to register yourself click on the "New user" option and select your region and enter your mobile number. After that click on the "Check details" option.
A form will appear, fill in all your required personal details and then click on "Submit". 
You will receive a mail on your registered email id containing the login details after the verification process is completed.
Now, log in to the TNEB website using the login details that you received in the mail.
You will be able to see your unpaid bills and select the one that you have to pay. If there are no due payments, you can also do an advanced payment by clicking on the "Advance" option.
You can select the payment method of your choice and proceed with the payment. 
A receipt will be generated after you have completed your payment and you can download that as well. 
Also Read: TNEB Reading Details: TANGEDCO Online Bill Status at official website
How to pay Tamil Nadu's electricity bill without registration?
One cannot pay Tamil Nadu electricity bill without registration. It is compulsory to get registered to pay the electricity bill through TNEB. It will hardly take 5 minutes to get registered on the website,