ITBP Login
This article will cover the topic of downloading the Pay Slip online and its features. The Indo-Tibetan Border Police Pay Slip can be downloaded online through ITBP's official website. Based on the employee attendance, earnings and deductions are included in the payslip.
Employees can access their ITBP Pay Slip by logging in to ITBP using their Login ID and password. The department head for finance got involved by granting them access to upload all of the employee's information online. Making resources like pay slips, health cards, attendance sheets, and other things available online for employees.
ITBP Himveer Connect takes care of official documents of an employee such as Pay slips. To view information as and when needed, one must get their login validated using their employment details and pass the password. However, you can also visit the ITBP Himveer connect office and fill out the offline form if you wish to get your payslip.
How to Download ITBP Pay Slip?
The Login System made available by ITBP through the official website requires a login ID and password. The employee must first obtain their login information from the ITBP division and save it for later use. Visit the official ITBP login page to access the monthly Salary Pay Slip. Follow the below given steps to download the ITBP pay slip.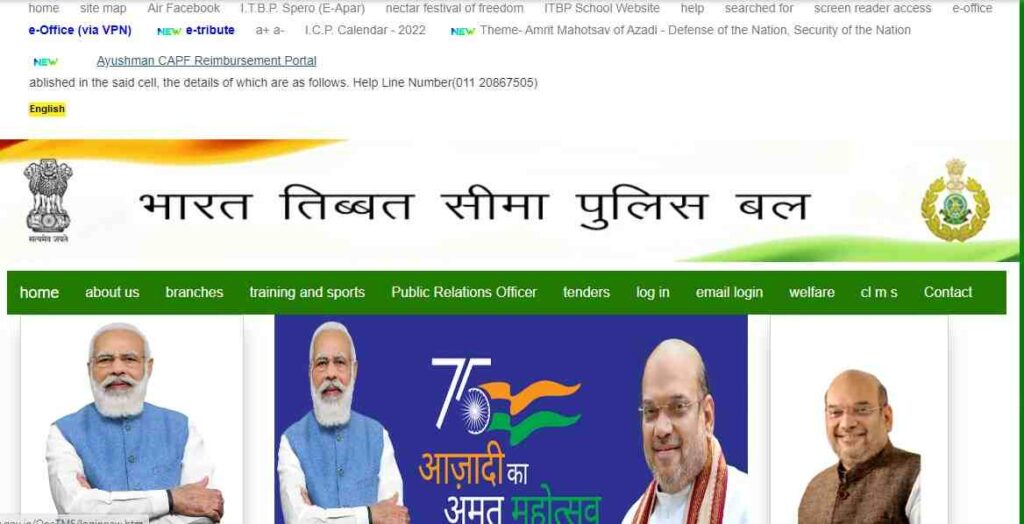 Select "Himveer Login" from Personal Login 2 under the "Login" section.
Enter your username and password.
Fill out the captcha and click on "Submit".
Your salary slip will be opened and verify your details.
Click on "Download" if you wish to download your payslip.
By following these steps, you will be able to access your pay slip. Remember that if you enter your login details incorrectly three times, you will be blocked from the website for 24 hours.
ITBP ranks list
ITBP Rank is dependent on the Position an Employee Holds, hence the positions listed below are those that are deemed to be Rank-Wise. The salary of employees would be dependent on their rank.
Officers
Subordinate officers
Under officers.
Director General
Additional Director General
Inspector General
Deputy Inspector General
Additional Deputy Inspector General
Commandant
Second-in-command
Deputy Commandant
Assistant Commandant
Subedar Major
Subedar/Inspector
Sub Inspector
Assistant Sub Inspector
Head Constable
Constable
How to get ITBP Pay Slip Password Reset from Himveer Login?
In case any employee forgets their ITBP Pay Slip login password, they can simply reset it online and there is no need to visit the office. By following the steps below, you will be able to change your password which will help you to view your pay slip
Visit the official website of ITBP and click on the "Personal Login" option.
Below the login button, you will find a "Reset Password" button, click on that.
Enter the regimental number and then the security question.
Enter your registered mobile number.
Click on the "Reset Password" button.
Enter your new password and confirm it by entering twice.
After this, your password is successfully changed.
Also Read: PAO GREF Payslip Download 2022, Monthly Salary Slip Paogref.nic.in
Blueprint of ITBP pay slip
Assuming that you are aware of the Indo-Tibetan Border Police is under the control of the Indian Central Government. Employee pay scales increased with the publication of the 7th Pay Commission of India, and employees of the Central Government are eager to check their updated salaries to know about any increases in their other sections.
Pay Scale is allocated based on the ITBP rank and is included in the ITBP Pay Slip. Based on their rates, the four bands of the ITBP Pay Scale are allocated. Additionally, employees receive pay based on where they are posted and when they are there. Based on their previous 30 days of labor, the displays their full earnings according to the PayScale.
The salary of an Indo-Tibetan Border Police officer depends on their working hours and location. Employees that work at in-office locations receive different compensation as compared to those who are posted in border or remote areas.
In the ITBP department, 14 ranks determine an employee's pay scale. The salary slip for ITBP employees has seen so many changes with time, because of which Pay Scale, Grade Pay, Total and Basic Pay depending on Rank, and the Seventh Pay Commission. Employees are urged to review their pay stubs soon.
We hope, you have got all information related to ITBP Salary Slip Download, ITBP Pay Slip Portal Login, Password Reset. If you find this article beneficial, share it across and support us.