BRO Pay Slip 2022
The terms PAO GREF Pay slip 2022 or BRO are commonly used by the Indian government. PAO (Pay accounts office), BRO (Border roads organization), and GREF (General reserve engineer force) are all combined to provide services to the borders of India. Whereas, the accounting and financial departments are controlled by PAO and GREF. The PAO GREF department agreement with assistance such as monthly pay slips, pay scale, and Pay records of all PAO GREF employees. 
BRO provides road development and maintenance under the Ministry of Defense. The project is concentrated on the countries and regions that border India. In 1987, the PAO GREF department was formed. The unit manages personal accounts for GREF employees and is the only controller.
GREF hires qualified people every year, so many candidates fill up the number of vacancies. The employees are paid a salary every month and along with that they also get some perks and allowances. Perks and allowances also depend on the period and the post of an employee.
Candidates that are recruited are then sent to different parts of the country for primary tasks such as developing and maintaining all the border roads and helping in proper infrastructure and road networks for the citizens that live there. After this, the recruited employees are given the monthly salary and allowances which comes under the PAO. The PAO GREF pay slip, download procedure, registration, and login options are all covered below:
PAO Pay Slip Download GREF 
Each member or employee can access their accounts to check monthly salary slips from the official website page by following steps: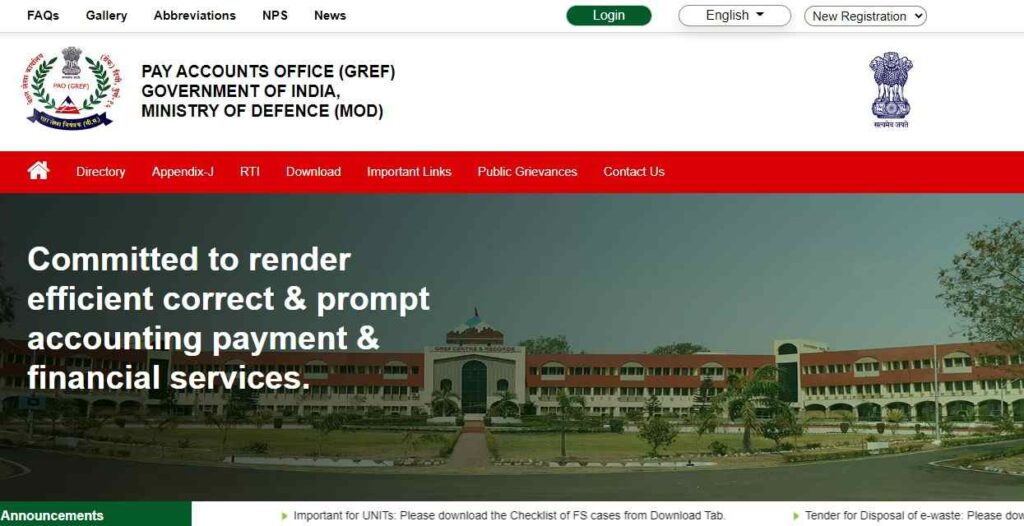 Select the pay details option on the home page and proceed to sign in.
Enter your username and password and click on "Submit".
NOTE: – Enter the GREF number in the username section.
A new page will open that will show your pay slip and monthly slip.
GREF members can download all the salary details from this website and also check other related details. Only members who are registered can log in to the website with their login ID and password. Below mentioned are the requirements for GREF registration: 
BRO/GREF number
School qualification documents
Fathers and mother's name
Registered mobile number and email address
Aadhaar card or PAN card (citizen proof documents)
Residential address
Also Read: How to Download BHEL ESS Payslip at SAP NetWeaver ESS Portal
pao gref.nic.in New Registration
Members can register with the online method simply by using their mobile devices or a computer for the registration process.
Note: The display would be different according to different devices.
PAO GREF Online Registration process 2022
Visit the official website of PAO GREF – https://paogref.nic.in.
If you are using a desktop, then click on the "New Registration" in the header section in the upper right corner.
Proceed and select personal users
If you are using mobile, click on the "New Registration" in the navigation bar on the right-hand side.
A registration form will appear, where you have to fill up the required details
Enter the 8-digit GREF number. Example: GS 178678
Enter your date of birth
Enter your PAN card number and then click on submit. 
After that enter your personal details as required such as name, mobile number, email address, etc.
Enter a strong password that will be easy to remember. NOTE: The password should have Capital letters, Small letters, numbers, and special characters. 
Enter your address (City and Pincode)
Select a security question that is easy to remember. (This will help you if you forget the password. The answer to that question should also be easy to remember)
Recheck all the details you entered and then click on the "Signup" button.
You will receive an OTP on the registered mobile number.
Enter the OTP and click on "Submit" button.
Once you are registered, you can now log in with your registration details and check your monthly slip. 
GREF members can also download and print a copy of the pay slip.
PAO GREF login Password Recovery Method
GREF members can only access the website using their login details. However, if someone forgets their password, the government has ensured a way to recover your password and this can be done by following the below-mentioned steps:
Go to the official website of PAO GREF – https://paogref.nic.in.
Click on "Forgot password" next to the login tab.
A new page will open, and fill in the required details such as username, GREF number, and the registered mobile number or email address.
Click on "Submit" button.
You will receive a password reset link on your registered email. Click on the reset link from the mail and enter your new password and confirm it. 
Also Read: Shalarth Maharashtra Portal 2022 Login, Download Payslip at shalarth.maharashtra.gov.in
BRO and GREF Pay scale, Pay band, and grade pay
BRO and GREF pay scale comes under the central government. Several documents are produced depending on the rank or pay scale of the GREF personnel. Salaries are offered based on the GREF member's rank. Unlike new members, senior members have a different salary scale. The amount of pay is determined by time and qualifications. But all GREF members receive the same benefits and allowances which includes medical, housing and other benefits.
For more information, log on to the official website of PAO GREF – https://paogref.nic.in.
FAQ's
What is the first password for PAO GREF Portal?
User@123
What is the official link of PAO GREF login?
Direct login: https://paogref.nic.in/admin/login
What is the first login user-id at Paogref.nic.in? 
Your GREF number is Login ID for the first time