A permanent Account Number (PAN) is a 10-digit combination number that contains alphabets and numbers. It is issued by the income tax department of India to everyone who is above 18 years. The purpose of this card is to allow financial transactions.
A PAN card is only one card that is issued, and no duplicate will ever be issued for the same individual at any cost. All tax-related information and services for any individual or company are collected in PAN card numbers, and this is the point of contact to search for any individuals or company's transactions and record their current income tax graph.
Below mentioned are the methods to check the status of the issued PAN card:
How to track PAN card Status via Online?
The fastest and the best way of tracking a PAN card is through online mode, and you also get to know the exact location. Below mentioned are the simple steps that you can follow to check the status of your PAN card online:
Go to the official website of Income tax.
Click on the link – https://tin.tin.nsdl.com/pantan/StatusTrack.html to directly reach the PAN section.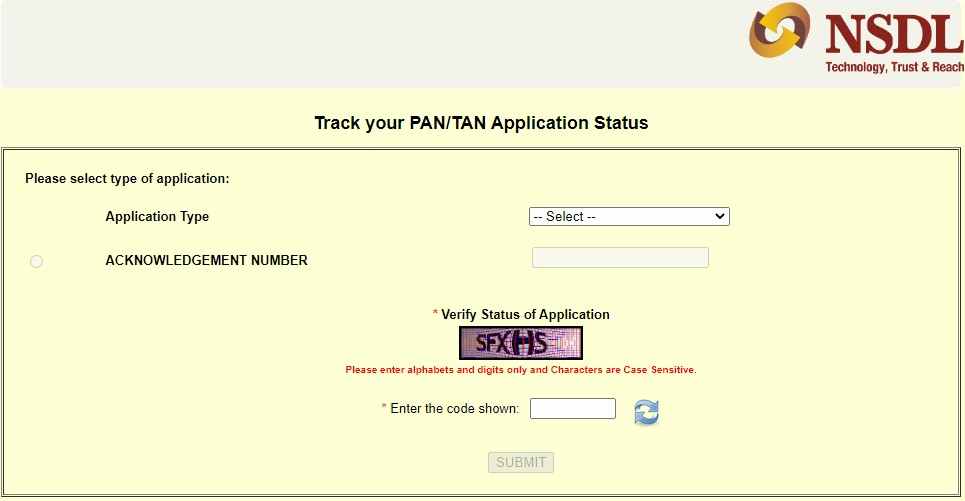 Select PAN – New/change request in the application type.
Enter your 15-digit acknowledgment number.
Enter the captcha and click on "Continue".
You will be able to see your PAN status now on your screen.
Also Read: PAN Card Application Status Check Online NSDL and UTI
You can also track your PAN card using the SMS and voice call facility. So here's how to do that:
PAN status through SMS
Applicants are required to send a message in the format of 'NSDL PAN <15-digit acknowledgment number> to 57575 and soon you will receive a reply showing your application status.
PAN Status on calling
You can call on the given number – 020-27218080 which is the official number given by the income tax department. Once the call is connected, applicants would be asked for their 15-digit acknowledgment number, Date of birth, Name, and the person on the call should be telling you the current status of your PAN.
FAQ's
What if I have lost my 15-digit Acknowledgement Number?
The 15-digit acknowledgment number is important and you should keep it safe till you receive your PAN card. You won't be able to check your status without the acknowledgment number. Along with that you will need your Date of birth and Name as well to check the status.
How many days will it take to receive a PAN Card?
After submitting the application for PAN, the applicant will receive their PAN card within 21 days as per the guidelines issued by the income tax department.
My Name Printed Wrong in PAN Card, what to do?
If there is any kind of mistake on the PAN card, the applicant should visit the official website and apply for a change. In this case, the applicant should apply for a change of name and submit valid documents as proof of identity.