PAN Card is one of the important documents that is used for identity purposes. In this article, we will be guiding you through a step-by-step process for getting an instant e-pan card, which will be available to all Indian Citizens. Also, you will be providing information on the key features of the Instant E PAN Card, which was just launched by the Indian government. We'll go through the fee as well as the necessary documents to apply for a PAN card in this article. So read this article till the end.
Details of Instant E Pan Card 2022
| | |
| --- | --- |
| Topic Name | E Pan Card |
| Started by | Government of India |
| Objective | To download Pan Card Online |
| Beneficiaries | Indian Citizens |
| Category | Central Govt Schemes |
| Official Website | https://www.onlineservices.nsdl.com/paam/ |
Introduction of E-PAN
The Finance Minister Nirmala Sitharaman announced a new service in the 2020 budget, allowing citizens to receive an instant permanent account number using their Aadhaar number without having to fill out an application form.
The purpose of this facility is to make the pan allotment procedure easier for Indian citizens. E-Pan is available in soft copy format for free and may be downloaded in less than 10 minutes. This fast e-Pan is the same as the PAN card you'll receive after filling out the lengthy application form. A PAN card is a necessary document for paying income tax, submitting tax returns, opening a bank account or demat account, and applying for a debit or credit card, among other things.
What is an E Pan Card?
The Pan Card is an important document that the Indian government has introduced in order for everyone to be able to prove their identity without having to carry a long list of documents. The PAN Card is also used to avail various schemes and services launched by government-sponsored initiatives, making it the most significant document for Indian people. The responsible authorities have just launched a new project called the e-PAN card.
Linking Your E-Pan To Your Aadhar Card
The PDF version of the immediate PAN card will be issued. The PDF file includes a QR code that provides demographic information such as the applicant's name, date of birth, and photo. To download e-Pan from the Income Tax e-filing portal, you'll need a 15-digit acknowledgement number. E-pan can alternatively be sent to the registered email address as a soft copy. You must pay costs if you apply for an E-pan on the NSDL or UTITSL websites. You do not have to pay any costs if you apply for E-pan through the Income Tax e-filing portal. When you apply for a PAN card using this technique, your Aadhaar card will be linked immediately.
Important Dates
The last date to link the Aadhaar Card with your PAN Card is 30th June 2020. Make sure to link your Aadhar card with the Pan card before the last date so that your Pan card will remain active. If you fail to link your Aadhaar Card with your pan card then your pan card will be made ineligible by the authorities.
E Pan Card's Objective
Nirmala Sitharaman officially launched the office for instant PAN distribution with Aadhaar-based e-KYC on Thursday. The Income Tax Department took to Twitter to say that applying for a temporary PAN is simple. This service is currently available to PAN applicants who have a valid Aadhaar number and a mobile phone number registered with Aadhaar. The designation method is paperless, and the candidates are given a free electronic PAN (e-PAN).
E-Pan Card Implementation
Individuals who wish to apply for a temporary e-PAN must provide certain details. Candidates should use a one-time secret phrase (OTP) on their registered mobile phone number to authenticate their details. Candidates must ensure that their Aadhaar details are correct, as the application may be rejected if there is a discrepancy in the information. The candidate would be provided a clearly marked e-PAN along with a QR code after successful validation of Aadhar subtleties. This QR code will provide segment information as well as a candidate photo.
E-Pan Card Advantages
The E PAN Card, which was recently launched by the government's concerned authorities, has a number of advantages. Many people will be able to download their PAN cards while sitting at home thanks to the deployment of this e PAN card.
The key benefit of the e-PAN card is that it can be viewed on our computer displays. We will no longer be required to visit a government office in order to complete the process of printing our PAN card.
Eligibility Criteria 
To apply for an instant e PAN card, all Indian residents must meet the following eligibility criteria:
The PAN card facility is only available to Indian citizens.
The applicant must be at least 18 years old.
HUF, Firms, Trusts, and Companies are not eligible for the e-Pan card.
A functioning mobile phone number is required of the candidate.
The applicant must be in possession of a valid Aadhar card number.
Also Read: How to Download UAN Card Online at epfindia.gov.in
Instant Pan Facility Requirements
The applicant must have a current Aadhar card that has never been linked to another PAN.
The applicant's Aadhar card must be linked to a registered cellphone number.
KYC documents are not required to be submitted or uploaded by applicants.
There can't be more than one pan in the applicant's possession.
Necessary Documents
You need to have the following documents before applying for the E PAN card
Aadhar card
Voter ID Card
Email ID
Residence address proof
Passport size photograph
Signature of the applicant
Domicile certificate
E Pan Card Scope
This flexible e-PAN operation is part of a remarkable digitization in the country. Now that PAN Card can be availed online, the Individual need not have to visit any offices. Because the successful pilot test gave over 62,000 e-PANs in less than 8 days, the e-PAN administration will be rolled out across the country very soon. Those having a current PAN could also acquire a copy soon from the office.
Instant E Pan Card Application Procedure
Follow these steps given below to apply for the e-PAN card online
First, go to the official website and then the home page opens.
On the home page, Click the "Quick Links" section
After this, select e-Pan card services from the drop-down menu.
Then select e-Pan card services from the drop-down menu.
Now, you will see some instructions, read it carefully.
After this, click on "Apply Instant e-PAN" button Or E Pan Online.
The instructions will show on your computer screen.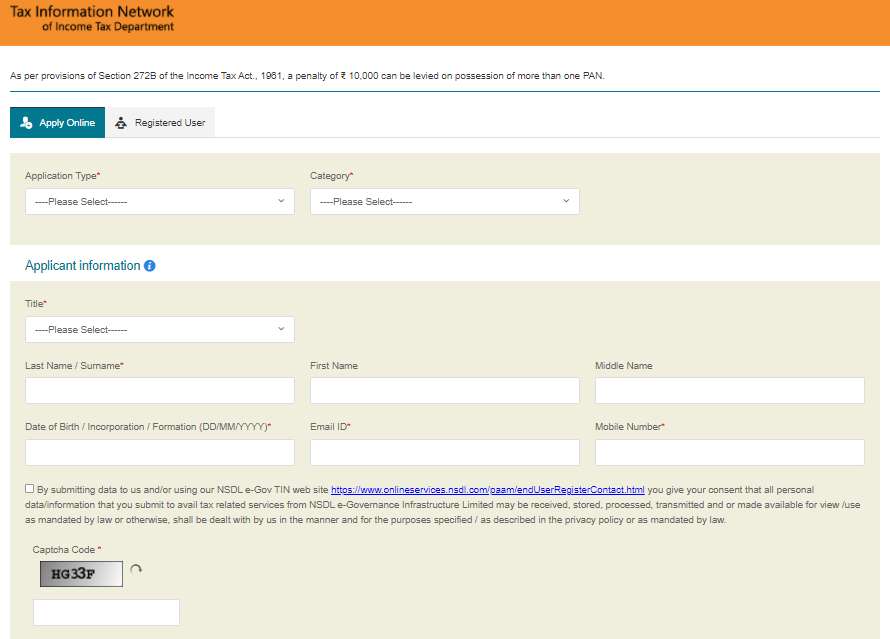 Read the instructions carefully.
To link your Aadhar card, click on "Next"
The e-PAN Aadhaar e-KYC Online Application Form will be displayed right away.
Enter all the information asked in the application form.
Upload a coloured signature with a 200 DPI resolution, JPEG format, a maximum file size of 10 kb, and a dimension of 2*4.5 cm.
Also upload all the documents asked.
Once you've completed the process of linking your Aadhar card.
A 15-digit acknowledgement number will be generated after the successful submission of the e-PAN Application Form.
The number will be sent to the mobile phone number or email address provided in the application.
Keep it safe for future reference.
Downloading an e-Pan Card or Checking the Status of an Application
To download an E PAN card, simply follow the instructions outlined below:
To begin, go to the official direct link provided here.
You will be taken to the home page after clicking on this link.
You must enter your acknowledgement number, which will be emailed to you after you have completed your pan card application.
Enter the captcha code available below the acknowledgement number.
Click on the "Submit" button.
How to Apply for Instant Pan Through Aadhar
To begin, go to the official e-filing page.
Before you, the home page will appear.
On the homepage, go to the quick links section and click on the immediate e-pan. Next, go to the get new e-pan section and click on get new e-pan.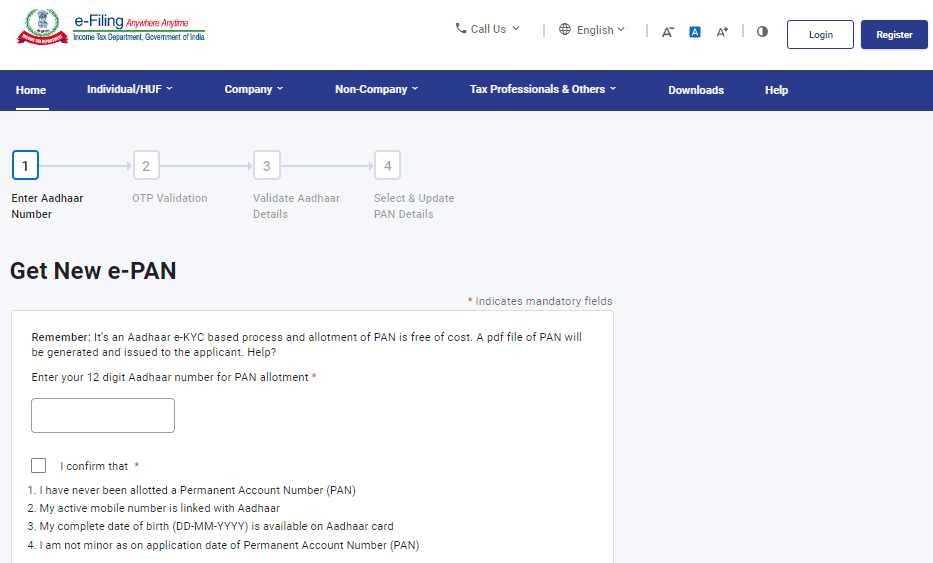 Now a new page will open, here you have to fill in your 12 digit Aadhaar number
Once you are done, tick the declaration and click on "Continue"
You will receive an OTP on your registered mobile number, which you must validate by clicking on Aadhar OTP Validation.
After that, you must click on the proceed button.
You will now be taken to a new page where you must click the box to accept the terms and conditions.
You must now click the "Continue" button.
After that you have to enter the OTP and click on "Continue"
Now you have to validate your email id by clicking one validate email id
Once it is done, tick the check box and click on "Continue" button
You will receive an acknowledgement number once you have submitted your Aadhaar details for validation
You can view the pan allotment status by entering your Aadhar number
How to check the Status/Download Instant Pan
Follow these steps given below to check the Instant Pan Status online
First, visit the official website of e filing and then the home page opens.
On the home page click on "instant e Pan" under quick links.
After this, you have to click on "Check status/ download pan"
Now, a new page will open in front of you.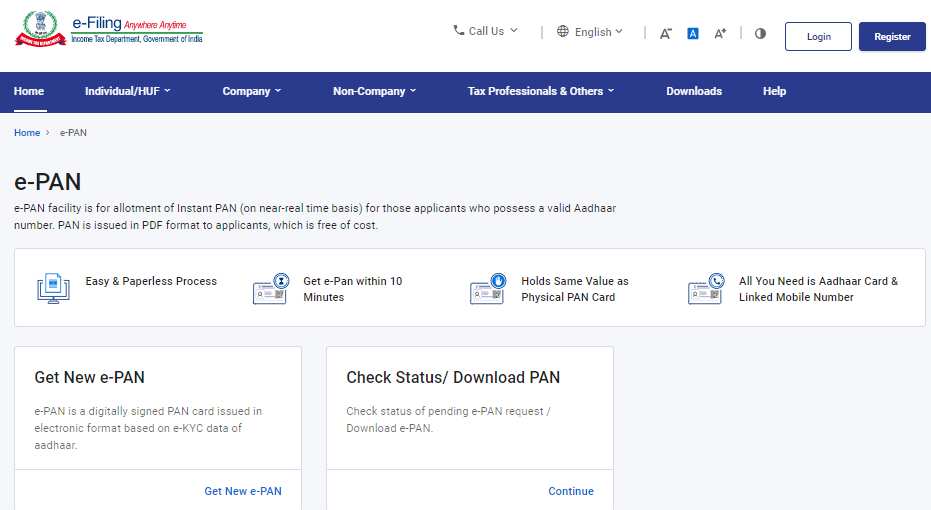 Here in this page, fill in your Aadhaar number and then hit "Continue"
You will then receive an OTP on your registered mobile number.
Enter this OTP in the click on "Continue"
Now, you will see a new page where you will be able to check the status of your pan allotment request
If the pan allocation is successful, a PDF link to download your pan file will be generated within 10 minutes.
If the pan file containing your pan is password protected, you can open it with your date of birth in the format DDMMYYYY.