With the main aim to create employment opportunities for the unemployed; the Government of West Bengal has initiated Yuvashree Arpan Yojana. Shreemati Mamata Bannerjee, the Chief Minister of West Bengal announced this scheme for youth of her state in the program organized by Department of Labour at Netaji Indoor Stadium. Now, the new list 2021 of WB Employment Bank Yuvashree is available at the official website employmentbankwb.gov.in where the individuals who have already registered themselves under this scheme can see their name in the list.
Key Points of WB Employment Bank Yuvasree New List 2021
| | |
| --- | --- |
| Scheme Name | WB Yuvashree Prakalpa Scheme 2021 |
| State | West Bengal |
| Launched By | Shreemati Mamata Bannerjee |
| Department Responsible | Department of Labour, West Bengal |
| Beneficiaries | Unemployed youths of West Bengal |
| Benefits | Financial Assistance or Stipend to the unemployed youths |
| Category | West Bengal Govt Scheme |
| Official Website | employmentbankwb.gov.in/yuvasree.php |
WB Yuvashree Online List 2021
West Bengal Yuvasree Scheme has published the fifth waiting list in its official website. Only already registered candidates can enjoy the benefits of this scheme, in case of you being not registered yourselves in the WB Yuvashree Scheme you need to do that first. The final waiting list of Yuvasree is now available under "View Yuvasree Waiting List " section.
The applicants whose name has been provisionally identified in this waiting list under "Yuvasree 2013" are asked to submit online Annexure 1 in the Employment Bank (Submit Annexure 1) link. After which the printout of filled Annexure 1, 2 and 3 has to be submitted to the concerned employment exchange office for validation. The new list of WB employment bank yuvashree is available at employmentbankwb.gov.in and application forms of the scheme can be obtained from the employment bank website. You can avail the benefits of yuvashree scheme only when you fulfil certain eligibility criteria as follows:
Being a permanent resident of West Bengal
Should be unemployed
Age must be between 18 to 45 years
Only one unemployed candidate from the family can apply
In case you are getting privileges from any other scheme issued by the government of WB then you will be not eligible for the scheme
Necessary Documents
With the increasing population, unemployment has become one of the major hindrances in the growth of the entire state and country. To curb this situation, the government of West Bengal has introduced this Yuvashree Prakalpa. The candidates who satisfy the above eligibility criteria can register themselves in the employment bank or in the office of employment bank. For registering, you might need few essential documents which are as follows:
Aadhar Card
Education qualification certificate
Voter Id
PAN Card
Passport size photograph
Proof of resident
Physical Measurements
Contact Details
Details of Bank Account
In this yuvashree online platform people can submit annexure 1, view status for enrolment (that is the name can be viewed in yuvashree), view Yuvashree waiting list, present annexure 2, 3 and view status in final waiting list of yuvasree
Also Read: Swasthya Sathi Scheme 2021 Smart Card: Apply Online Cashless Health
How to download WB employment bank yuvasree waiting list?
You can follow the below steps to download West Bengal Employment Bank Yuvasree Waiting List 2021: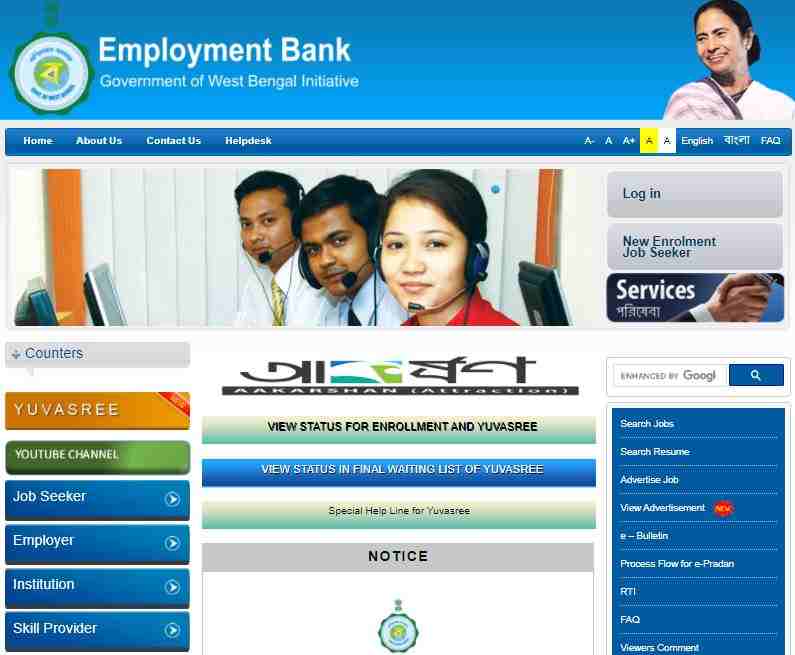 Now the homepage will be displayed in which click "View Yuvasree Waiting List" option
Direct link for landing in the Yuvasree Waiting List View page https://employmentbankwb.gov.in/admin/pdf/YUP_5th_list.pdf
Yuvashree New Waiting List will open now
You can directly download this page and easily check whether your name is there are not
Steps to check enrolment status or How to view your name under Yuvasree?
Check your name in the waiting list of employment bank by following the process below
Go to the official website of employment bank that is employmentbankwb.gov.in
Press the "View Status for enrolment and yuvasree" or click the direct link
Now the "View your Name under Yuvasree Scheme" page will open up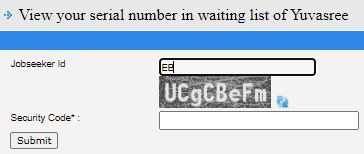 In which enter your id number in "Jobseekers ID", security code and then click the submit button 
Process to view status in Final Waiting List of WB Yuvashree Scheme
Click at the "View Status in Final Waiting List of Yuvasree" in official employment bank website homepage
You can also view your serial number in Yuvashree Scheme waiting list using this link
Ways to Download Annexure 1,2 and 3 of WB Yuvasree Application form
Yusharee Unemployment Assistance Application Form
Format for Unemployment Certificate by Group A officer
Format for Self Declaration by the beneficiaries
"About the Scheme" section of Yuvasree has the direct link to fill Annexure 1, 2 and 3
Annexure 1 Application Form for Unemployment Assistance
Press the "Application Form for Unemployment Assistance (Annexure 1) link and open the Yuvashree apply form for Unemployment assistance in the Annexure Download page
Annexure 2 Format of Unemployment Certificate by Group A officer
To open the Yuvashree form for unemployment certificate by Group A officer, click the "Format for Unemployment Certificate by Group A officer (Annexure 2) in the Annexure Download page
Annexure 3 Format for Self Declaration by Yuvasree Beneficiary
In the Annexure Download page, press the "Format for Self Declaration by the Beneficiary (Annexure 3 link to open the Yuvashree self-declaration form for beneficiaries
Link for the complete list of employment exchange offices present in West Bengal. You can download the list from this link given below
https://employmentbankwb.gov.in/download_adv.php?file=UlhoamFHRnVaMlZNYVhOMExuQmtaZz09
Joint Directors of Employment in charge of Districts list can be downloaded by visiting the link given below
https://employmentbankwb.gov.in/images/DoE_District_list.pdf
Yuvasree's most important goal is to provide employment assistance to the unemployed youths of West Bengal thus increasing their skill and employment ability. It is advisable that you get enrolled yourselves in this scheme at earliest. The Government has assigned a State Level Monitoring Committee for checking and verifying all the details entered by you, so be genuine in uploading all the information about you.
https://wb.gov.in/government-schemes-details-yuvasree.aspx or https://employmentbankwb.gov.in/yuvasree.php
Stay connected with us, we will update you with various government schemes both at national and state level at regular intervals. Also bookmark our website at sarkariyojanaindia.com.