UPSDM: The Government of India has announced the National Skill Development Policy in 2009 aiming to provide skills to 500 million individuals by 2022. Under this National Plan, the Uttar Pradesh Government plans to empower more than 4 million youth before the finish of the 12th five Year Plan. To make this Possible the Uttar Pradesh Skill Development Mission has been launched in the state. Today in this article, we will be discussing the UPSDM Portal, its objective, benefits, features, eligibility criteria, necessary documents, and how to apply for the UPSDM Scheme online at www.upsdm.gov.in. So read this article till the end.
Details of UPSDM Portal
| | |
| --- | --- |
| Name of the portal | Uttar Pradesh Skill Development Mission |
| Launched by | Government of Uttar Pradesh |
| Objective | To provide trainings |
| Beneficiaries | Unemployed youths in the state |
| Category | Uttar Pradesh Govt Scheme |
| Official Website | www.upsdm.gov.in |
UPSDM उत्तर प्रदेश कौशल विकास मिशन.
The goal of UPSDM's incorporated mission is to coordinate the efforts of various State Departments to achieve the State's goal of skill advancement. The objectives of various State Departments, such as Rural Development, Urban Development, Labor, Minority Welfare, Social Welfare, and so forth, are incorporated into the UPSDM's ability improvement programme, which is aimed at improving employability in Uttar Pradesh.
The Chief Minister of Uttar Pradesh Yogi Aditya Nathji has launched the UP Skill Development Mission to enhance the livelihood of the unemployed youth.
Through the UP Skill development Mission, the youths in the state will be trained and provide employment opportunities.
With the help of the Uttar Pradesh Skill Development Mission 2022, the unemployed youth will get placement in good places.
In accordance with this up kaushal vikas mission, training in the automotive, fashion design, and other fields will be provided.
Youth and youths from the state are remembered for 283 courses in 34 fields, including automotive, fashion design, etc., under this UPSDM.
Youths and youths in UP can prepare for any of these topics based on their preferences.
By providing the necessary training through this UP Skill Development Mission plan, the state government hopes to provide employment to 50 crore women and youth by 2022.
Also Read: Shadi Anudan Scheme Uttar Pradesh 2022: Apply Sadi Vivah Anudan UP
Uttar Pradesh UPSDM Scheme Objective
We all are aware that many educated youth are not getting jobs and they are staying unemployed. To handle this issue, the Government of Uttar Pradesh has started a Uttar Pradesh Skill Development Mission. The main objective of starting the Uttar Pradesh UPSDM Scheme is to provide training to the unemployed youths in the state and make them get employment in any organisation.
Through the UP Skill Development Scheme, the unemployed youths are being motivated and help them get employment according to their skillset. This scheme will reduce the unemployment rate and make the youth self-reliant.
With the help of this programme, all the young people in Uttar Pradesh who have been working hard or staying at home will have the chance to develop their capacity and intelligence, and those who are socially and economically disadvantaged will also be able to find employment.
UPSDM Application Form 2022
The age range for applicants for this scheme, including women and youth, is 18 to 35. Visit the plan's official website to submit an online application if you're an interested beneficiary of Uttar Pradesh's Kaushal Vikas Yojana 2022 and want to take advantage of its benefits. UP Kaushal Vikash Yojana UPSDM 2021 Online training programmes will be overseen by top-tier private preparation companies and government training facilities. Under this UPSDM 2022, youth and youth of the state may enrol for no cost.
List of PMKVY Sectors
| | | | |
| --- | --- | --- | --- |
| Agriculture | Automotive | Banking and Accounting | Beauty and Hairdressing |
| Business & Commerce | Carpet | Courier & Logistics | Construction |
| Electrical | Electronics | Fabrication | Fashion Designing |
| Food Processing and Preservation | Garment Making | Hospitality | Information and Communication Technology |
| Insurance | Leather and Sports Goods | Material Management | Healthcare |
| Paint | Plastic Processing | Printing Process | Instrumentation |
Benefits and Features of UPSDM 2022
Some of the major benefits of UPSDM Scheme are as follows
The unemployed youth in the state of Uttar Pradesh will be provided with training which will help them to get employment.
The UP Skill Development Scheme 2022 comprises 283 courses in 34 sectors such as automotive, style planning, and etc.
Under this scheme, the candidate has the right to choose their preferred course and nurture themselves in that.
There is a provision for qualified additional agencies to evaluate each trainee.
High-level private training facilities and abstract training facilities will oversee the training programmes.
In addition to PC/Computer information, English will also be taught in all courses.
After successful completion of course by the candidate, certificates will be issued by the government-recognized institutions (e.g. NCBT, NSDC).
The Government fund for all the programs available under this scheme.
The successful implementation of this programme will increase Uttar Pradesh's growth rate while decreasing unemployment. Under this, training will be given in programmes for fashion and automotive design. That will raise both young people's and women's standards.
Additionally, certificates will be given to young people and women who have achieved success according to the state government's standards.
UPSDM Eligibility Criteria
You need to fulfil this eligibility criteria below to apply for the UPSDM Scheme online.
The applicant must reside in Uttar Pradesh permanently.
The age range for applicants should be between 18 and 35.
UPSDM Required Documents
You need to have the following documents below to apply for the UPSDM Yojana.
Aadhar Card of the applicant
Address proof
Identity card
Educational certificate
Age certificate
BPL ration card if applicant comes under Below Poverty Line
Construction Worker Registration Number
Unemployment allowance registration number
Bank account passbook
Mobile number
Passport size photo
Uttar Pradesh Skill Development Mission Application Procedure
Interested candidates who would like to apply for the Uttar Pradesh Skill Development Mission 2022 have to follow these step by step procedures given below, so that they can avail the benefits.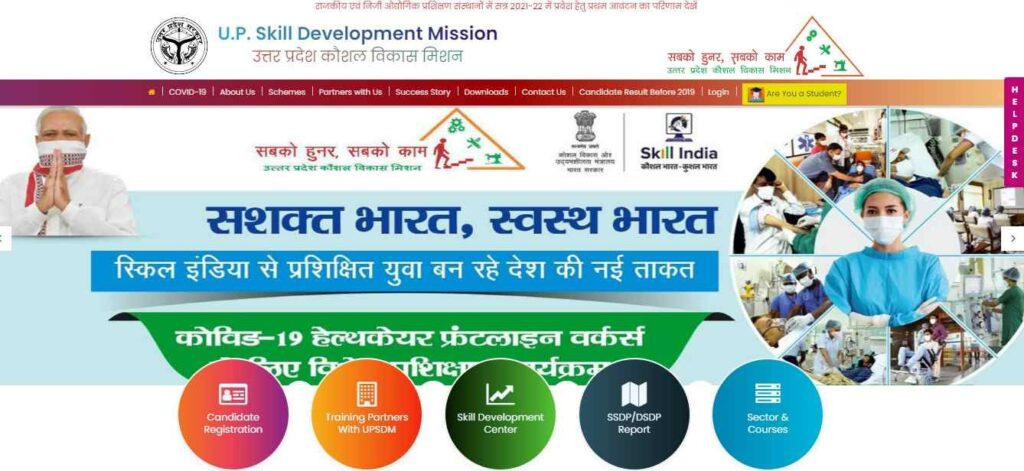 Once you see the homepage of the website, click on the "Candidate Registration" option.
After this the UPSDM application form will open in front of you.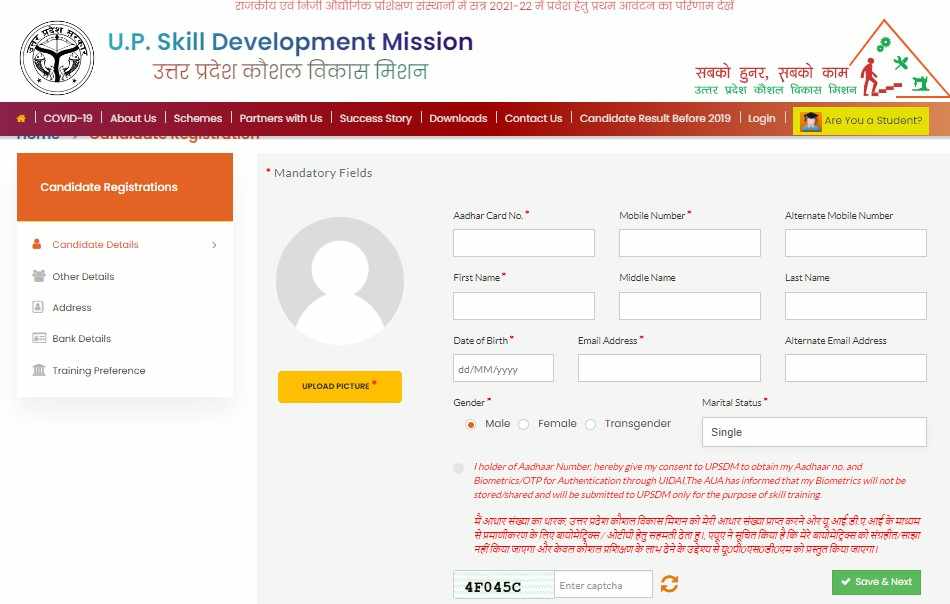 Fill all the information asked in this application form such as
Applicant's name
Mobile number
Address, etc.
Once you are done filling the form, verify it once and then click on the "Submit" button.
Now, you will be asked to upload your Aadhaar card and photo.
After successful registration, you will get a password using which you will be able to login to the UPSDM Portal.
Also Read: Rastriya Parivarik Labh Yojana 2022: UP National Family Benefit Scheme
UPSDM Training Center List
You will be able to check the UPSDM Training Center List and search the Training Partners, Allotted Districts, and Sectors. For this, you have to click this link.
We hope you have got all the information related to the UP UPSDM Training Scheme. If you find this article beneficial, share it with your friends and support us.