The Snehapoorvam Scholarship 2022 has been started in kerala to benefit students it state. Today here in this article, we will explain you all the information related to Snehapoorvam Scholarship for the year 2022. You will get a step by step process on how to apply for Kerala Snehapoorvam Scholarship Online, Snehapoorvam 2022 eligibility criteria, necessary documents benefits, and the last date to apply for the scholarship. So read this article completely till end.
Overview of Snehapoorvam Scholarship 2022
| | |
| --- | --- |
| Scholarship Name | Snehapoorvam Scholarship |
| Started by | Government of Kerala |
| Beneficiaries | Orphans in the state |
| Objective | To Provide scholarships |
| Application start date | 28th June 2020 |
| Last date to apply | 31st October 2020 |
| Extended last date | 15th December 2020 |
| Category | Kerala Govt Scheme |
| Official website | socialsecuritymission.gov.in |
What is Kerala Snehapoorvam 2022?
The Kerala Government has started Snehapoorvam Scholarship 2022 to benefit the Orphan children in the state. Through this scholarship scheme, various benefits and incentives are being provided to the orphans in the state. This incentives given under this scholarship will help the candidate to continue their education without any difficulties. Also, the candidate and their families burden will be completely reduced as most of them face difficulties in paying for themselves.
Objective of Snehapoorvam Scholarship 2022
The main objective of Snehapoorvam Scholarship is to help the orphan children's in state as kerala have around 75000 children who are below 18 years of age. To help them with right education and to make them comfortable, the Kerala has introduced this scholarship scheme
With the help of this scholarship, the students will be able to continue their education irrespective of the death of their parents or breadwinner.
Those students who are below 5 years of age to class 12th and even to degree colleges can apply and get benefited by this scheme. With the successful successful launch of this scheme, the orphan child in the state will get proper education without any difficulties.
Eligibility Criteria
You need to fulfill these eligibility criteria mentioned below to apply for this scholarship
The candidate must be a kerala resident.
Applicant must be an orphan
The applicant has to be below the poverty line
The candidate should currently pursuing in government or private school in Kerala.
Annual income of the children belonging to APL Category must be
Less than 20,000 for rural areas
Less than 22,375 or less for urban areas
Necessary Documents
You need to have the following documents mentioned below while applying for the Kerala Snehapoorvam Scholarship
Aadhar card
Bank Details
BPL certificate
Domicile certificate
Educational certificate
Income Proof
Parents death certificate
Incentives Amount
You will get the incentive amounts according to your class after registering under this scholarship
| | |
| --- | --- |
| Status | Incentives |
| For Class Ist to V | Rs 300 per month |
| For Class VI to X | Rs 500 per month |
| For Class XI to XII | Rs 750 per month |
| For degree or Professional courses | Rs 1000 per month |
Snehapoorvam Scholarship 2022 Application Procedure
Follow these step by step procedure below to apply for the Snehapoorvam Scholarship 2022 online
First of all, you have to official website for this Scholarship by clicking here.
Once you see the homepage of the website, click on "KSSM Web Application"
After this, a new page will open where you have to click on "Login" button.
Now, hit the option "New Institution Register"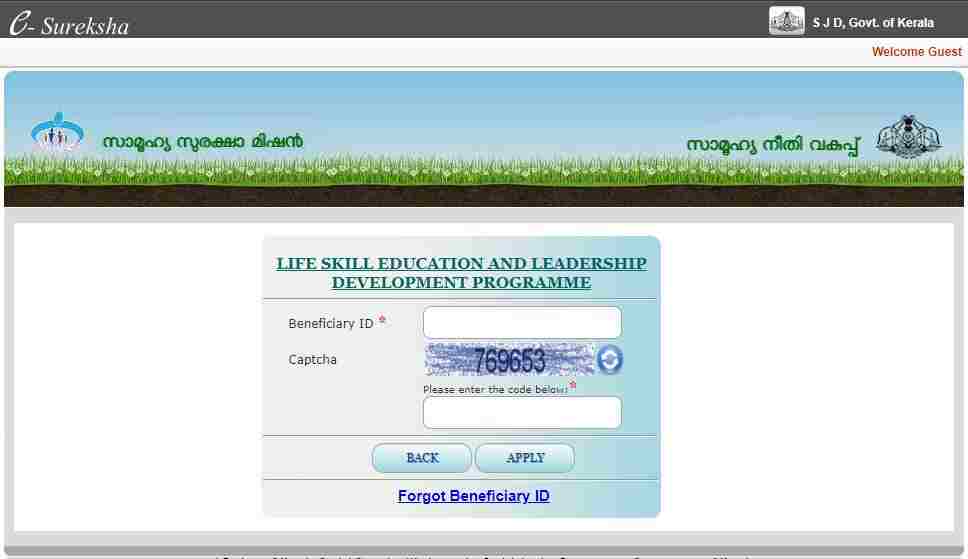 Fill in all the necessary information accordingly.
In the end, login with your Beneficiary ID and Password.
Now, the Registration process will start and you have to fill all the required details.
Snehapoorvam Scholarship Renewal Process
You have to follow these steps below to renew your Snehapoorvam Scholarship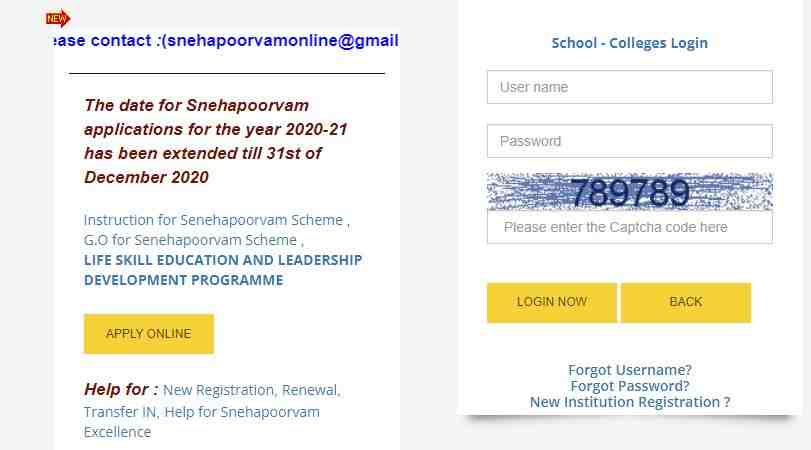 After this, fill in your enter the username, password, and then solve the captcha code
Now, click on the "Login" button.
After this, navigate to "Services" link and then click on "Renewal" option.
In the next step, enter student's name, admission number, etc and then click on "Search" button.
Now, you need to choose "Select" available below the the label "Renewal"
In the end, click on "Renew Now" option.
In this, your Snehapoorvam Scholarship Renewal Procedure will be done online.
Selection Procedure of Snehapoorvam Scholarship
The Selection Procedure under Snehapoorvam Scholarship will be done in this way
First, you have to visit the head office of government or a government-aided educational institution
Get the Snehapoorvam Scholarship application form from the concerned authority.
Fill all the information asked on that application form.
Attach all the necessary documents mentioned in the application form.
Once it is done, then submit the filled application to the same institution
Once the verification is done by the officials, your application form will be converted as PDF and then uploaded on the online portal to the executive director of Kerala social security mission
Helpline Details
On our website, we have provided all the information related information about the snehapoorvam scholarship. Even then if you have any queries, you can always reach out to the helpline number and email ID given below
Helpline Number- 1800120100
Email ID – [email protected]
We hope, you have got information related Snehapoorvam scholarship 2022. Incase you find this article beneficial, show your support by bookmarking our website.