The Jammu and Kashmir Government has started an online portal named JKPAYSYS in the state to circulate information related to the work done by the government. The Government officials and students preparing for the exam who belong to Jammu and Kashmir state must know how the JK payment system works,. So today, here in this article, we will be explaining you about the JKPAYSYS payroll download, how to login to JKPAYSYS payment manager, how to do JKPAYSYS Salary Slip Download and other important things related to Kasmir payment system. So read this article till end.
Details of JKPAYSYS Salary Slip Download Portal
| | |
| --- | --- |
| Name of the Portal | PayManager Jammu And Kashmir Portal |
| Launched State | Jammu & Kashmir |
| Created by | National Informatics Centre (NIC) |
| Controlled by | Finance and Accounts Department of Jammu & Kashmir |
| Objective | To download Employee Pay Slips Online |
| JKPAYSYS Salary Slip Mobile App | Mera Vatan |
| Category | Jammu Kashmir Govt Scheme |
| Official Website | www.jkpaysys.gov.in |
Now that with the launch of JKPAYSYS Salary Slip 2022, employees in Jammu and Kashmir will be able to download their JK payroll online. Every month, you with your payment receipt in the JK PaySys web application, you can generate login details on the JK payment system and download the payment receipt easily.
The PayManager (JKPaySys) offers you the DDO under common integrated system for preparing various invoices for expense posting.
What does JKPAYSYS mean?
The full form of JKPAYSYS is Jammu and Kashmir Payment System which is online portal started for the government employees in Jammu & Kashmir through which the employee payroll estimates and information can be obtained.
JKPAYSYS Salary Slip Portal uses software like Beams (budget estimation, allocation, and monitoring system), CPIS (centralized personnel information system), and capital network and payment system.
The Government employees in Jammu and Kashmir does not have to visit payroll department or other departments to download their payslips and pay bills anymore, from the official web portal, you can check check & download your salary-related information. JKPAYSYS Salary Slip Download made life easy for the employees in the state. With single click, you will be able to pay bills and access your salary details
How to get payslips in JK PaySys?
Follow these step by step procedure below to get your JKPAYSYS Salary Slip Download 2022:
First of all, you have to go to Jammu and Kashmir government payment system by clicking here.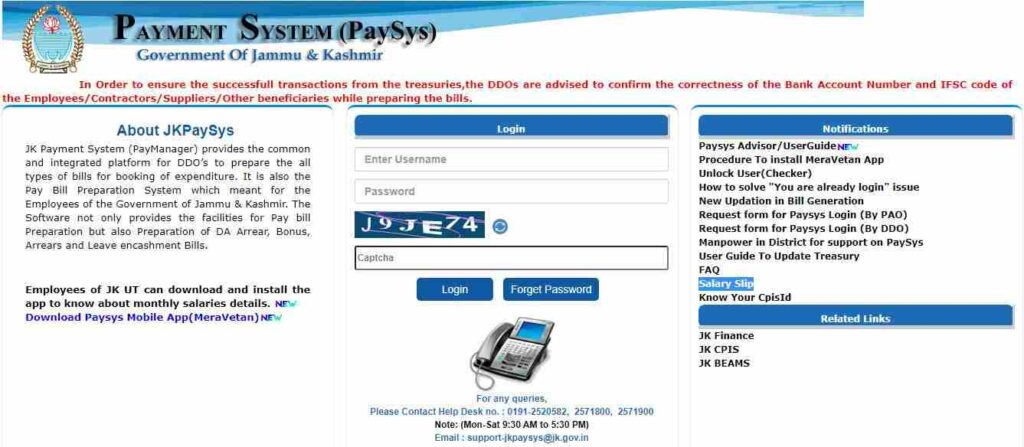 Once the home page opens, click on the "Salary Slip" under the notification section. Move to the login page.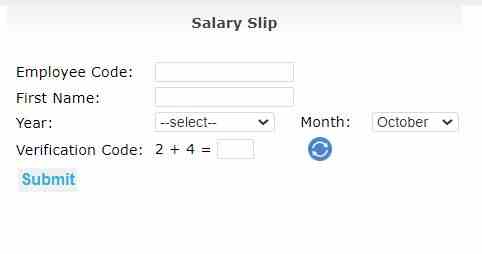 Now, you will see a login page opened in front of you, here enter the following
Employee Code
First Name
Year
Verification Code
Once you have entered all the above details, Click on "Submit" button.
After this, you will see your JKPAYSYS Salary Slip, you can get a hard copy.
How to download JKPaySys Payroll online?
Follow these steps below to download your JKPaySys paycheck online.
First, go to the official website of JK Paysys PayManager at jkpaysys gov to
On the home page, click on "Login" button shown in the middle of your screen.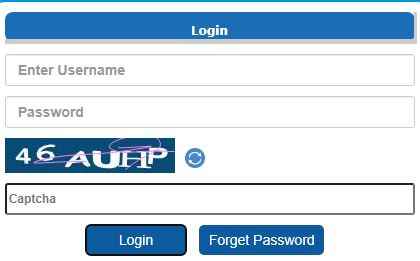 Here you will have to fil in your login ID, Login Name, and login password.
After entering these details, fill in the verification code shown in the image and then hit "Login" button.
In the end, you will be logged in to your account, from their, you can see your JKPaySys payroll information.
In order to do download your payroll, you have to click on the option "Payroll" and select the month you want the payroll.
After some time, your payroll for selected month will be shown, which you can download by clicking on "Download" option
In this way, you will download JK Paysys PayManager employee payroll online.
Requirements for JKPaySys Login
The JK Paysys PayManager online portal helps the JK government employees to avail their monthly income, taxes, wages, and dues deductions. Also the retired JK Finance employees make use of the portal to verify the JKPaySys payroll details. You must have to create a account before accessing the JKPaySys payroll.
You need to have the following things mentioned below to do the JKPaySys Login
PayManager JK login password
JKPaySys user ID or employee code/Aadhaar number
How to log in to the JK payment system?
Once you get the login credentials from your department, you will be able to easily login to the JK payment system by following these steps below
First, go to official JK payment system portal at jkpaysys .gov .in.
Once the home page open, login to the JKPAYSYS login portal using you username and password
How to reset Forget JK PAYSYS Password?
If you have forgotten your JK PAYSYS Password, you can reset it by following these steps given below
Go to the official website of JK PAYSYS portal at https://jkpaysys.gov.in/
On the home page, click on "Forget Password" option.
After this, you will see a screen where you have to enter your username, email ID, and the Captcha Code.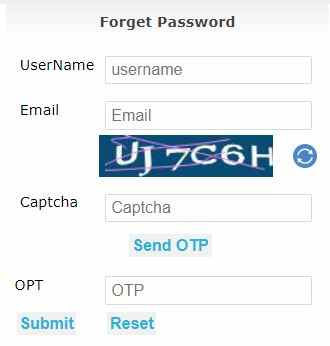 Now, click on "Send OTP" and you will receive an OTP on your registered email id
Enter this OTP in the space provided and click "Submit".
That it, you can now change your Jammu Kasmir Payment System password easily.
How to Download Paysys MeraVetan Mobile Application?
The Applicant now can access JKPAYSYS Salary Slip faster with the JKPaysys mobile application (ie Mera Vetan). For this you have to download the application from the JKPAYSYS portal. Here we guide you on how to Download Paysys MeraVetan mobile application
Go to JKPAYSYS official website at Jkpaysys.gov.in.
On the home page, click on "Meravetan download" option.
Now, click on download and then the application gets downloaded on your mobile phone.
JKPAYSYS Salary Slip Important Links
JKPAYSYS Helpline Information
On our website, we have provided all the information related to JKPAYSYS Salary Slip Download. Even then if you have any queries, you can reach out to the details below
| | |
| --- | --- |
| Numbers | 0191-2520582, 2571800/ 2571900 (Mon-Sat 9:30 am – 5:30 pm) |
| Email | [email protected] |
We hope, you have got all the details related to JKPAYSYS Salary Slip Download at Jkpaysys.gov.in. If you find this article beneficial, then show your support by bookmark our site sarkariyojanaindia.com.