An income certificate is a necessary document that shows your income. This certificate is used in many situations. Kerala's government issues income certificates both online and offline. We'll show you how to apply for an income certificate in Kerala using both online and offline methods in this article. You will also learn about the Income Certificate Kerala, Income Certificate Kerala Registration, its objective, benefits, features, eligibility criteria, necessary documents, login, and how to download the Income Certificate Kerala Online by reading this article. So, if you're interested in applying for an Income Certificate in Kerala, please read this post thoroughly till the end.
Overview of Income Certificate Kerala
| | |
| --- | --- |
| Scheme Name | Income Certificate Kerala |
| Launched By | Kerala Government |
| Beneficiary | People of Kerala |
| Objective | To Provide Income Certificate |
| Mode Of Application | Online/Offline |
| Category | Kerala Govt Scheme |
| Official Website | https://edistrict.kerala.gov.in/ |
Kerala Income Certificate 2022
The Kerala Government offers income Certificates for the state people as it is the important document that shows the proof of the annual income of a person or family. If you are a resident of Kerala, you can avail Income Certificate at village or taluk officers in Kerala.
With the help of Income Certificate Kerala, the citizen can apply and get various types of subsidies that are being provided by the state government. Either through online or offline, one can apply for the Income Certificate. At the Akshaya centre, the application submission will be done. If you want to apply online for this certificate, then you can do it on the E district portal.
The Income Certificate Kerala is valid for one year from the date of issuing. In order to obtain an income certificate, citizens must pay a charge. The certificate will be issued within 7 days of the application being received.
Income Certificate Kerala Objective
The Income Certificate Kerala is required in order to receive several forms of subsidies from the Kerala government. Kerala residents can apply for this certificate via Akshaya centres or through the E district site. Kerala residents will now be able to benefit from tax relief thanks to the availability of income certificates. Aside from that, pupils are given several forms of fee concessions in the educational institute. Students must present income certificates in order to qualify for these benefits.
Factors to Take into Account When Calculating Annual Income
The applicant's, spouse's, father's, mother's, and unmarried family members' annual incomes are added together to form the family's annual income. The following elements must be considered while determining annual income:-
Salary
Rental income
Income from labour
Pension
Income from business
Income from land
Income from NRI family member
Factors are not considered when calculating annual income are as follows: –
Family pension
Terminal benefits
Surrender leave salary
Festival allowance
Income of widow daughter or sister
Income Certificate Kerala Application Fees
At Akshaya Centres- Applicants must pay a total of Rs 28 in costs, which includes an Akshaya centre service charge of Rs 18, a government service charge of Rs 7, and Rs 3 per page scanning and printing. The charge for SC/ST families is merely Rs 12. The application cost for those living below the poverty line is Rs 20.
Online Application- Applicants must pay a fee of Rs 15 to apply through the E district portal.
Income Certificate Kerala Benefits and Features
The Kerala Government offers Income Certificate for its citizens.
This document shows your income proof of you or your family.
You can avail this certificate at village or taluk offices in Kerala
Using this document, you can avail benefits of various types of subsidies happening in the state.
Citizens of the state can apply for income certificate either online or offline.
At Akshaya centre, you can submit the application for the income certificate.
Kerala income certificates are valid for one year from the date of issuing.
Citizens must also pay fees in order to obtain an income certificate.
The issue of a certificate takes 7 days to process from the date of application.
This document is often used to secure seats at educational institutions.
A certificate of income is also required at the time of admission to school.
In India, an income certificate is also required to receive certain forms of pensions.
An income certificate is required to receive a fee reduction at an educational institution.
Tax relief can also be obtained by submitting an income certificate at the time of property purchase.
Income Certificate Kerala Eligibility Criteria
For applying for an income certificate, the applicant must belong to Kerala.
Necessary Documents
You must have these documents listed below to apply for the Income Certificate online
Aadhar card
Ration card
Proof of income
Proof of Identity
Land tax
Salary certificate
Passport size photograph
Mobile number
Basic tax payment receipt
How to apply for a Kerala Income Certificate at Akshaya Centre?
Visit your nearest Akshaya service centre and then request the Income Certificate Kerala application.
You must now provide all required documentation.
The submitted documents will be sent to the appropriate department.
An application number will be sent to the applicant's registered mobile number via SMS.
The applicant will be notified of the status of their application through SMS.
The request for an income certificate will be handled by the department.
After verification, an approved government officer will digitally sign the income certificate and send an SMS to the applicant to visit any Akshaya centre.
The applicant must furnish the service centre with the application number.
The applicant will present a printed copy of his or her income certificate.
How to apply Kerala Income Certificate via E District Portal?
To begin, go to the official website of Kerala's E district.
Before you, the home page will appear.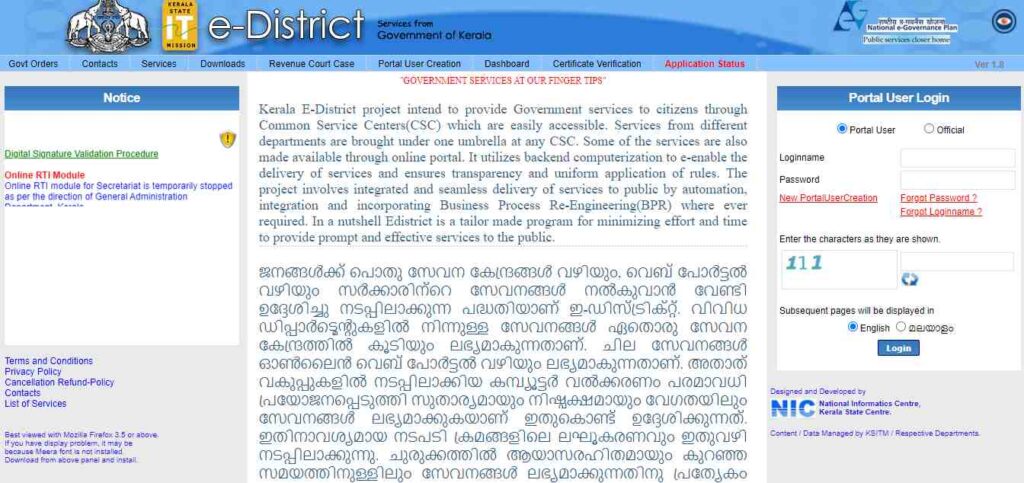 To create a new portal user, go to the homepage and click on "New portal user creation".
After this, the registration page will appear.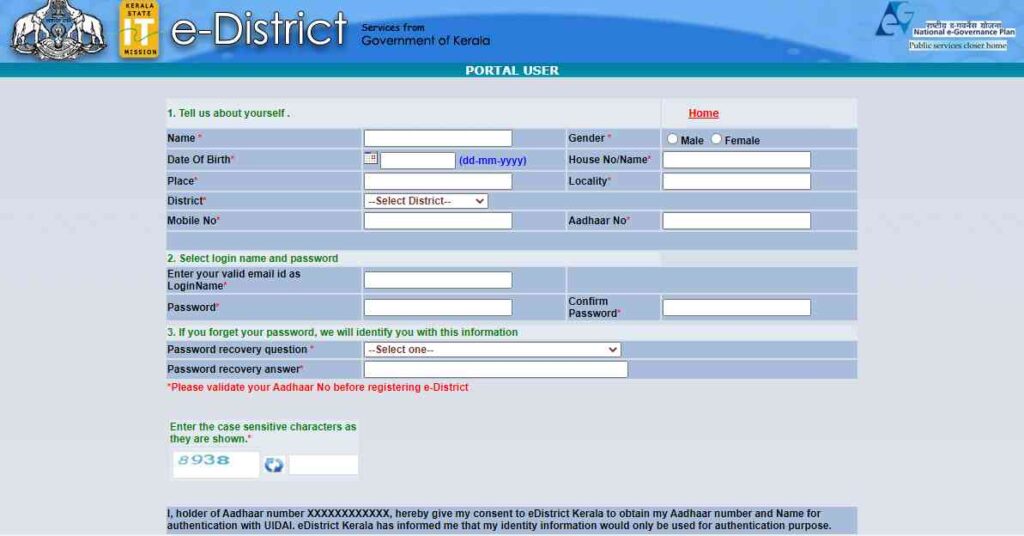 You must fill out the following information on this page
Name
Date of birth
Place
District
Mobile number
Gender
House number
Locality
Aadhar number
Valid email address
Password
Captcha code
Password recovery question
Password recovery answer
After this, click on "Register" button and then login with your credentials
Now, click on "One time registration" option.
Next, you have to enter the details asked in the given space and then click on "Duplicate"
Once it is done, tick the "Ok" box and then click on "Submit"
By clicking "Edit registration", the applicant can also make changes to the information that has been entered.
Verify all the details once and then, click "Submit". You will now be prompted to enter your E district registration number.
Now, select the the certificate type as income certificate
You must now choose the certificate's purpose.
Fill in your name and choose self from the drop-down menu for the relationship.
Now you must press the "Save" button.
You will then be redirected to the document uploading section, where you must now upload all of the required documents.
Then you must click "Submit". Finally, you must select the "Make Payment" option.
After that, fill in all of the payment information.
You must now click on the "Pay" button.
The payment will be made, and a receipt will be issued.
Take a printout of this receipt for future reference.
How to login to E district Kerala portal?
Follow these steps below to login to E district Kerala portal for Income Certificate Kerala
First, visit the E district, Kerala official website.
Once the home page opens, select user type under the login section.
After this, fill in your username password in the space provided.
Solve the captcha code and then hit the "Submit" button
In this way, you will login to the E district Kerala portal
Application Status Check Procedure
If you want to check your application status, you have to follow these steps below
First, go to official website of E district, Kerala
Once you see the home page, click on the "Application Status" option.

After this, a new page opens where you have to select "Service" and enter application number
Once it is done, click on "Submit" button.
In this way, you will complete your application status check.
How to download the Income Certificate Online?
Follow these steps given below to download the Income Certificate in Kerala Online
First, you have to visit E district, Kerala official website.
Once the home page of the website open, navigate to login section.
Here, fill in your login credentials and then click on "Login".
After this, click on "Download Income Certificate"
Now, you will see your income certificate in a PDF format on your screen.
Click on "Download" button to download the certificate.
Income Certificate Kerala -Helpline Details
If you have queries related to eDistrict Project, you can contact the details given below
Email: [email protected]
Phone: 0471 2726881 
For Technical issues (System Administrator), you may reach out via
Email: [email protected]
Phone: 0471 2726881
For Technical issues (Database Administrator ( eDistrict Project)), you may reach out via 
Email: [email protected]
Phone: 0471 2726881