ICAI SSP (Self-Service Portal): How to login to the ICAI SSP portal, Self-Service Portal Login, Articleship registration at https://eservices.icai.org/
SSP Portal of ICAI
In this fast paced world, technology has gone to a level where everything is made possible on the online platform itself. To make it easy for the common people, each and every sector of various private and government organizations are taking steps from their side to carry over most of their works in a digitized way. Likewise ICAI that is Institute of Chartered Accountants of India have stepped into the digital platform which works on Self-service Portal (SSP Portal)
ICAI, directed by the Administration of the Ministry of Corporate Affairs, Government of India and Council of forty members, is the official body that regulates accounting and financing in India. According to the Chartered Accountants Act and Chartered Accountants regulations (1988) out of 40 official body members 22 are elected by the CA while the remaining 8 are nominated by the central government. ICAI is a recognized legal and accredited regulatory body of India's Chartered Accountants profession which maintains high standards in technical, ethical and examination fields. In this article let's see in detail about the ICAI SSP portal which makes the respective works easier for its beneficiaries.
What are the functions of ICAI?
Regulate the profession of Accountancy and related education and examination of Chartered Accountancy in India
Formulate Standard Auditing Procedures and Ethical Standards
Direct the post qualification courses and ensure standards of member's performance
Review financial reports and monitor quality
Provide inputs to the Government on policy matters
Being a national body ICAI offers inputs to various departments which are as follows:
Comptroller & Auditor General of India
Ministry of Corporate Affairs, Government of India
Securities and Exchange Board of India
Central Board of Direct Taxes
Reserve Bank of India
Insurance Regulatory and Development Authority
Departments of Public Enterprise
Departments of Central and State Governments 
Self Service Portal implemented by ICAI will assist in login, queries, course registration, profile, fee details, and notification etc for students, articles, firms and members. With ICAI accounts the SSP portal is easy to access for users 
Steps to login to ICAI SSP Portal at eservices.icai.org
SSP Portal Login Procedure
Follow these simple step given below to login to ICAI SSP Portal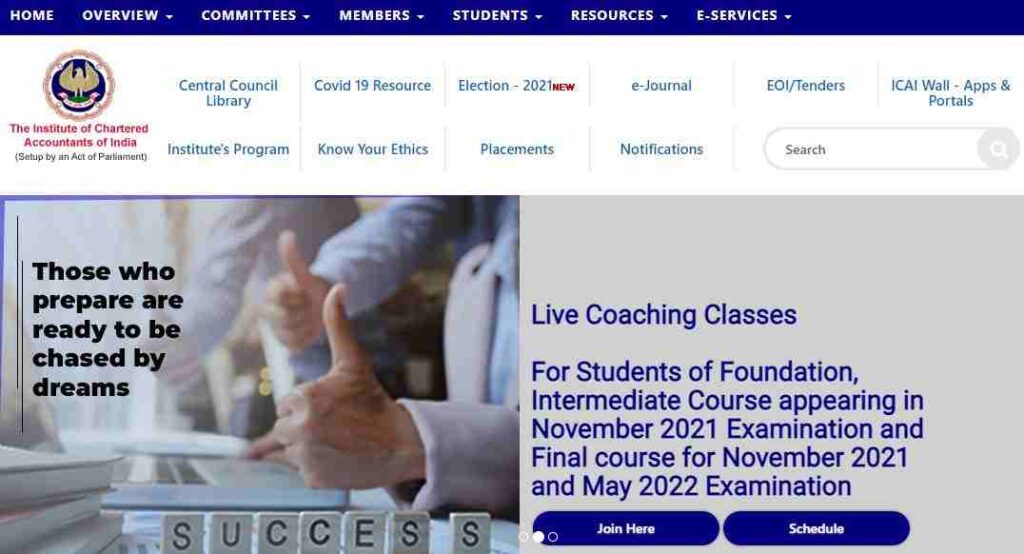 Enter the user ID and passwords which was shared to you separately over email and SMS
Then click the "Login" button
Articleship Registration in SSP Portal
In the login page displayed, click on "Articleship Menu" button
Now two options will be displayed which is article deed form and auditship deed form
Click the "Article deed" form and fill the form
Selection of Commencement date of articleship
To fill select the date of commencement of articleship
Then enter the membership number or paid assistant under whom the articleship will be done and click on "Get Details" button
Select the firm under which the articleship will be done
Choose the date on which deed is made
Click "Submit" button.
Execution of Deed Pdf
After which download the deed pdf and execute the deed on stamp paper
Keep a scanned copy ready 
Now click on the "Click Here" to edit the application and fill the registration form
In case of log out, log in to the page
Go to the submitted applications tab and click on "aArticleship deed form" icon
Press the view button in the action column
Then click on the "Click Here" to edit the application and fill the registration form
Verify your personal details displayed on the screen. In case of any changes, use the profile change form to make the necessary changes
After entering the mandatory details, click the "Next" button
See the qualification details displayed and edit any detail through the profile change form if any change is required
After which click next and view the CA course information
And for any change in this CA course information select the profile change form and change the details
Once changing the details press next and check the articleship details and information previous articleship
On checking the details click "Next"
Now from the two options "Yes or No" to indicate whether the articled assistant or audit clerk are actively involved in other business or profession
The above apply during the period of articleship and apart from profession check whether they are also involved in any other academic or professional course
If "Yes" you need to fill the form 112 through another form tab before submitting the registration form
Then press "Next" to check the member details and select "I agree" and submit the details
Now member is required to login, view the details and approve the registration form
You can select the "Forms of approval' to view full details
Ways to member login in ICAI eservices.icai.org
Once the registration form approved by the member, student must download the pdf get is signed by the member and upload the scanned copy of the PDF, to complete the registration process
To upload the signed copy of the PDF's, the student is required to login again, view the registration form in the submitted application tab, click next on all the screens and upload the signed and scanned copy of the Deed (Form 102) and registration (Form 103) PDF on the last screen
Click on "Submit" and make the fee payment (if applicable)
Articleship Termination or Completion
If the registration request is approved by the regional office, the student would get registered for articleship under the specified member. The registration allows the student to see termination and completion forms in the articleship tab but only after three years from the date of commencement of articleship. The students can access all other forms which are applicable for him/her namely permission to study course or engage in any business/occupation, secondment form, requisition form and intimation of change of status of principal (only if registered under paid assistant)
At any time, the member will be able to view the Articleship Termination, Articleship Completion, Auditship Termination, Auditship Completion and Industrial Training Completion or Termination forms, and can fill and submit the same for the students who are registered under him/her
Steps to fill and submit the termination form
Go to the official portal and click on the "Articleship menu" button
Articleship termination button will be displayed on the screen
Click on it and fill in all the details required
Choose the reason or cause for termination from the drop down
Verify all the details displayed
Now select the date of termination and enter the number of leaves in days carefully. *Details cannot be modified once submitted
Then enter the stipend details and click "Next" to continue
Check all the details about the member in charge of training is correct
Fill the details of work done only for the period served. Type 0 (zero) in the remaining non-applicable fields
If applicable, enter all the current details of any professional training programs attended during the articleship. Around 3 records can be entered using the add new row button
Fill the general remarks given by the member about the student conduct during articleship period and click the next button
Upload all the required documents in support of reason for termination as mentioned on the first screen and then click submit button
After which download the pdf and get it signed by the members (Principal and MIT)
Finally upload the scanned copy using the edit application feature as elaborated in the Articleship Registration Process above
Termination of Articleship on the death of Principal
Click the articleship and fill the from on the official website
Choose the option "Articleship termination on the death of Principal" from the drop down as the reason for termination
Select the name of the surviving partner from the drop-down, in case the training is being done in partnership firm
If not the above case, type the name of legal representative of principal if the proprietor firm does the training
Legal representatives can be any legal heir (blood relative of the member or husband/wife)
After these steps follow the same procedure as mentioned in the ways to fill and submit articleship termination form
Process for Articleship completion
Press the articleship completion icon and enter all the required details
Then fill the details of number of leaves in days, stipend details etc
Work experience is split into accounting, auditing, taxation, information technology and management consultancy and filled according to the number of days allocated to each during the articleship
Summary regarding to all professional and training programs attended by the students along with the general marks for the same needs has to be filled
Check the details again and click the "Submit" button to generate pdf form
We hope, you are provided with all the information related to SSP Portal Login. If you find this article useful, show your support by bookmarking our website at sarkariyojanaindia.com