The Indian Army has created a Mobile App named Hamraaz. Today here in this article, we will provide you with all information related to Hamraaz Web & Mobile App, how to download Hamraaz App, Hamraaz App Signup, Login, Reset Password, Payslip download. So read this article till the end.
Overview of Hamraaz App
| | |
| --- | --- |
| Name | Hamraaz |
| Developed by | Indian Army |
| Objective | To get Pay Slip and other services online |
| Category | Central Govt Schemes |
| Official Website | https://hamraazmp8.gov.in/ |
| App Link | Hamraaz Web |
What is Hamraaz payslip app?
The Hamraaz payslip app is an mobile app developed by the Indian army to control the activities of soldiers in India. This app was officially launched in 2017 and has been serving the soldiers since its launch. By logging in to the app, the soldiers will be able to know about their posting promotion, view monthly salary slip form 16 and other things.
Objective of Hamraaz App
The Hamraaz App has been launched with an objective to serve soldiers with information about the posting & promotions, offer services like payslip, salary slip download, forms online.
Hamraaz App services
You can avail the following services on the Humraaz App.
Information about the posting and promotion can be viewed online.
The soldiers can check their salary slip and download form 18.
You can get a monthly salary slip via Humraaz App.
Soldiers can download monthly salary slips and form 18 on the website as well as on the mobile app.
Humraaz App Benefits
Some of the major benefits of Humraaz App for soldiers are as follows.
Easy to use.
All services at one portal.
Eligibility Criteria
The hamraaz app is accessible only to Indian Army Soldiers.
Applicant mobile number and Aadhar number must be linked in order to use the hamraaz app
Required Document
You need to have the following documents below to get hamraaz app payslip.
Aadhar number
PAN Card
Mobile number
How to Download Hamraaz App?

Tap on the first result and then Install the app on your mobile phone.
How to login to Hamraaz App?
Follow these simple step by step procedures below to complete Hamraaz App Login.
Open the Hamraaz App on your device.
Enter the details asked and complete the registration.
Once it is done, click on "Login".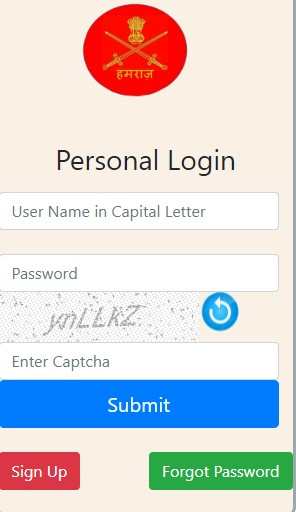 Now, fill in your username & password.
Click on the "Login" button.
In this way, you will do Hamraaz App Login
Procedure to open payslip in Hamraaz app
Follow these steps given below to open your payslip in Hamraaz app
Open the Hamraaz app on your device.
Login to the app by entering your username and password.
After this, under the "Services" section, click on "Open hamraaz payslip".
Now, you will see the payslip opened on your screen.
You can download this pay slip by clicking on "Download" button.
How to download Form 18 via Hamraaz app?
To download the Form 18. you have to follow these steps below
First open the humraaz app and login using your credentials.
After logging in, click on the login "Download form 18."
In this way, you will download the Form 18 via Hamraaz app.
How to sign up on the Hamraaz App?
Follow these procedures below to sign up to the Hamraaz app. This step is very similar on both the Hamraaz Web and Mobile App.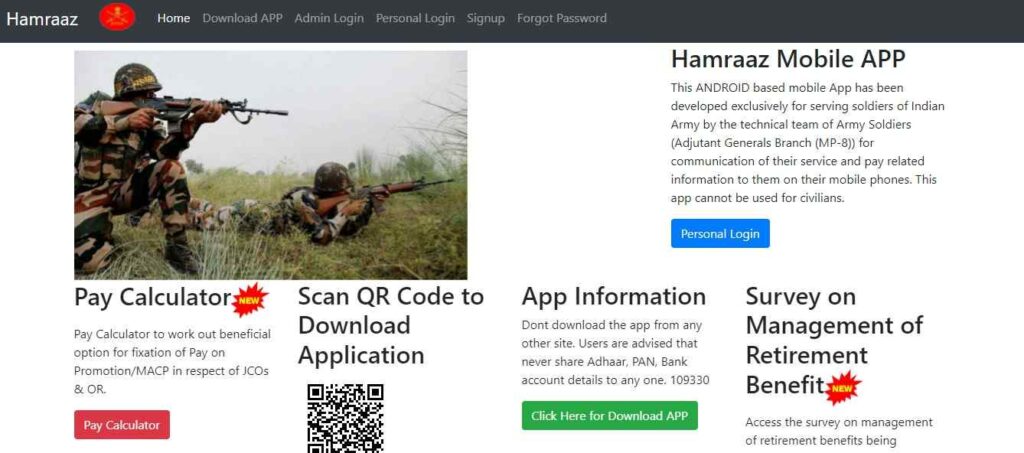 Once the homepage opens, click on the "Signup" button.
After this, you have to enter the details asked. 
Solve the captcha code and then click on the "Submit" button.
Finally, you will receive an username and password with which you can login to the portal.
Hamraaz Forgot Password Reset Process
In case you forgot your Hamraaz Login Password, you can reset it just by following these steps given below.
First, visit the official website of Hamraaz at hamraazmp8.gov.in.
Once the homepage opens, click on the "Login" option.
After this, you have to click "Forgotten Password" under the login form.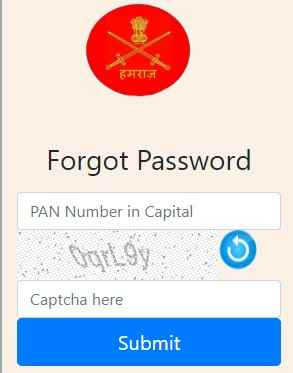 Now, a new page will open where you have to fill in your  Aadhaar or Pan details.
Once it is done, you will receive an OTP on your registered mobile number.
Enter this OTP in the space provided and then create a new password.
Confirm the password by entering it again in the space provided.
Once it is done, click on "Submit".
Your password will be changed and now you will be able to login to the portal again.
Hamraaz Pay Calculator
Using the Hamraaz Pay Calculator, you can get information about the salary growth after promotion.
First, go to Hamraaz official website.
On the homepage, click on the "Payslip calculator".
After this, select the option "Pay level before promotion"
Now, you will be asked to select the date of promotions.
Existing date of increment.
Once you are done, click on the "Submit" button.
Also Read: UMID Railway Registration, Login, UMID Card Download at umid.digitalir.in/web
FAQ's
What is Hamraaz?
The Hamraaz is an Online Portal and Mobile Application launched by the Indian Army where soldiers can avail various services like viewing pay slips, salary slips and more.
How can I download payslip in the Hamraaz app?
Step by step procedure on how to download payslip in Hamraaz app is provided in the above section. Please have a look.
What is the official website for Hamraaz Web?
You can visit the Hamraaz Web at https://hamraazmp8.gov.in/
We hope you got all the information related to Hamraaz Web and Mobile App. If this article is informative, share it with your friends and support us by bookmarking our website.