BSNL (Bharat Sanchar Nigam Limited) is the fourth largest telecom service provider in india serving over millions of customers across the country. It is a government owned company operating under telecommunication department and Ministry of communication India. The Company offers franchisee opportunities. Today here in this article, we will be explaining you about the FMS BSNL, BSNL Franchisee Partner Online Registration, Login at Fms.bsnl.in. So read this article till end.
Details of FMS BSNL
| | |
| --- | --- |
| Topic Name | BSNL Franchisee / Partner Registration |
| Provided by | BSNL (Bharat Sanchar Nigam Limited) |
| Provided to | People of India |
| Objective | Franchisee opportunities to people |
| Category | Article |
| Official Website | https://fms.bsnl.in/partnerRegistration.jsp |
FMS BSNL Partner Registration Online at fms.bsnl.in
Users benefit from mobile and internet service, making it a reliable telecom provider. The BSNL joints with various partners to provide quality service distribution for their clients.
The BSNL partners will provide services like Broadband, Fiber to the home, mobile services, and more. BSNL Franchisee / Partner is available for both rural and urban people, this will establish BSNL into rural and urban areas.
Across India, BSNL Franchisee / Partner serve commercial and residential clients. A significant commission of up to 50%BSNL rewards will be provided to all the franchise and partners such as individuals, businesses, societies can venture into the business.
FMS BSNL – BSNL Franchisee Partnering Benefits
Some of the major benefits of partnering with BSNL service provider are as follows
Quality services will be provided across India.
Partnering will increase the BSNL users thereby increasing the revenue.
The BSNL Franchisee / Partner allows company to built in both rural and urban areas
.
Excellent commissions such as product commission and activity-based commission.
BSNL support center will increase to solve any network issues.
BSNL Franchisee partnering will provide digitalized gadgets and internet services.
This is open up online payment services like mobile apps, wallets, and more.
Eligible BSNL Franchisee/Partners
The following are the eligible applicants to apply for the BSNL Franchisee
The Resident Welfare Association.
Telecom Infrastructure provider.
Builders
DIDs
System integrators
Franchisees
All registered companies and societies.
Local cable operators
BSNL retails
Direct selling agents
Any local business people
Telecom service provider.
All the eligible groups must have good marketing skills to take BSNL network across the country. Also, they need to complete the BSNL registration form on the BSNL franchisee management portal
BSNL Franchisee Registration at fms.bsnl.in
Follow these steps below to register with BSNL as franchisee or partner
First of all, go to Official website of BSNL FMS Registration Portal at https://fms.bsnl.in/partnerRegistration.jsp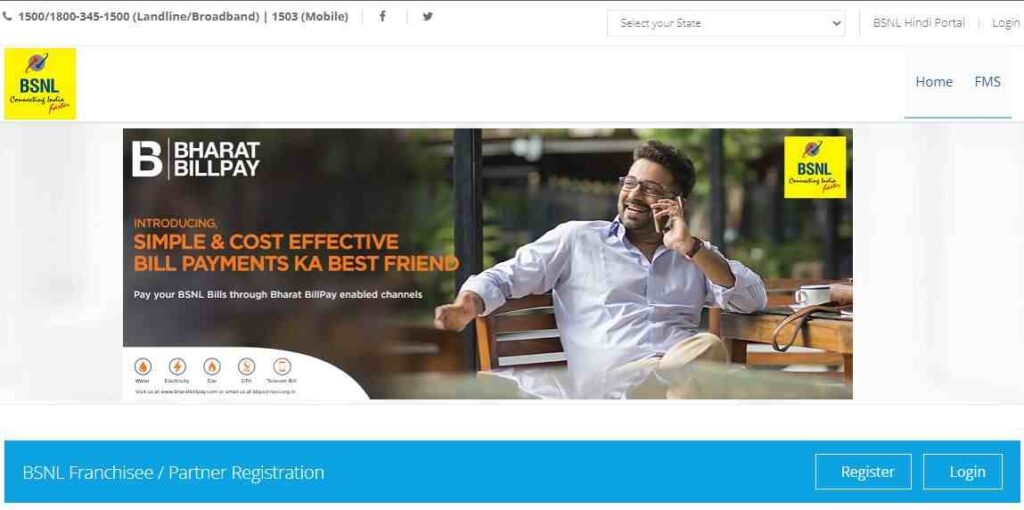 Once the home page of the website open, click on "Register" option
After this, you will be asked to enter the following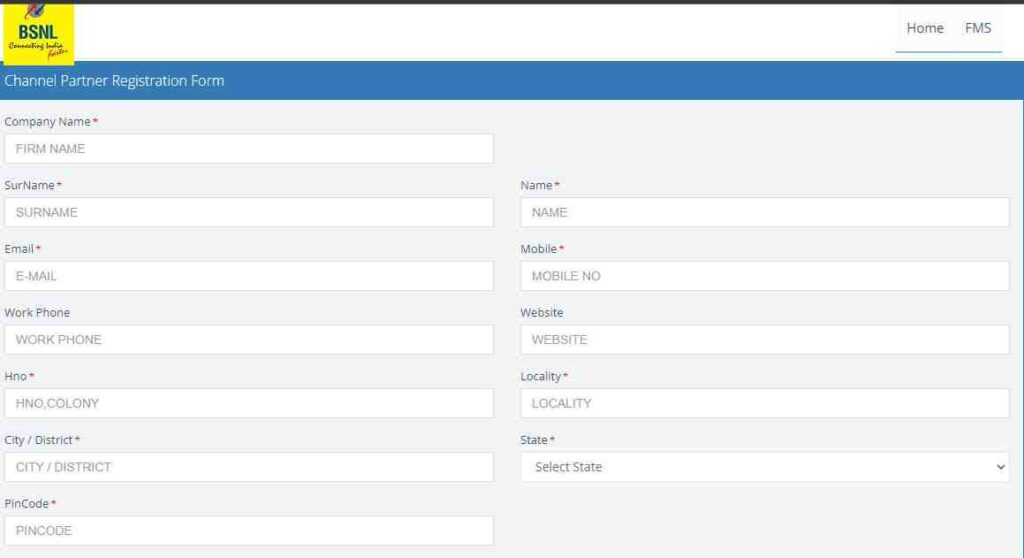 Company name.
Email
Mobile number
City/district
Address
SSA
Circle
Once you have entered the above details, type the message and click on "Submit" button.
After successful submission, the BSNL executive will verify the details.
The BSNL officer will then reach out to you for the further process. Also, the local BSNL executive will visit your location for verification about BSNL services.
You need to provide legit details to avoid inconveniences or cancellation of your partnership with BSNL. The BSNL service Company follow strict follow up before giving you the Franchisee Opportunities.
FAQs
What is the full form of BSNL FMS?
The full form of BSNL FMS is BSNL Franchisee Management system.
What is the eligibility criteria to avail BSNL partnership?
The BSNL Franchisee is open to all, you need to have infrastructure for BSNL services. Also the company has offered a list of groups which we have listed above.
Why is BSNL offering this Franchisee partnership?
BSNL telecom service provider is looking to spread their services across India by partnering with people and providing franchisees. These partners will bces e able to provide mobile and internet services.
How will BSNL partners and franchise reactive their payments?
All BSNL partners will get 50% commission according to the activity and products. These payments are made based on the agreement with the Company.
Also Read: BSNL ERP Portal, SAP ESS for Employee HRMS Services Login, Benefits
We hope you have got all information related to FMS BSNL BSNL Franchisee Partner Online Registration at fms.bsnl.in. If you find this article useful, share it with your friends and support us by bookmarking our website at sarkariyojanaindia.com.