Log in to SAP ESS portal BSNL ERP at eportal.erp.bsnl.co.in and set up the IRJ portal, Download your payslip and reset locked password with your email, view pay information, income tax details, apply leave, apply VRS etc
BSNL ERP Portal
One of the main reasons why the BSNL employees should be using the ERP portal is for self-service. BSNL is one of India's leading telecom and broadband service providers with more than a lakh employees across India. And it is understood that administering every employee will become easier with an Enterprise resource planning strategy.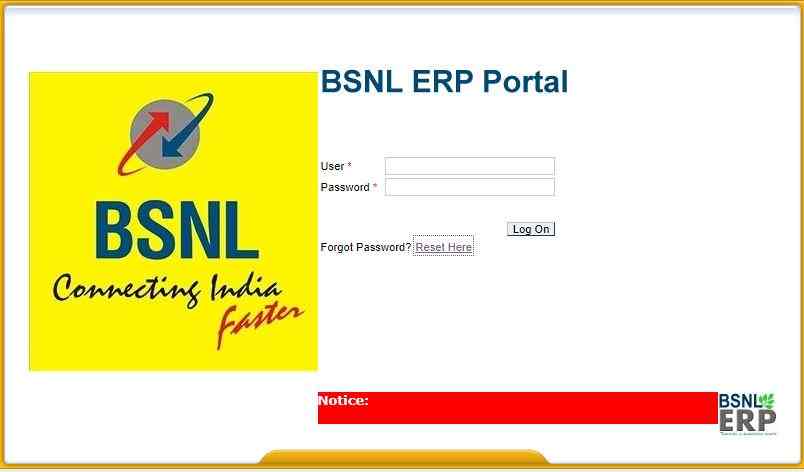 In that context BSNL has started using the ERP ESS portal for its employees. This stands for BSNL Enterprise Resource Planning, Employee Self-Service. Every employee will be given access with a username/ID, password to get access to get various information and services like Salary Slips, Basic Pay, IDA, different incomes subscriptions, benefits and loans that they can get.
Firstly, every employee wants to know their monthly payment which in terms of finance is called "Basic Pay" it is what we receive in our bank accounts. Once BSNL employees have access to their accounts they can identify their basic pay along with other monthly benefits that they might receive.
BSNL ERP Details
The enterprise resource planning portal (BSNL ERP) provides the following to its employees
Salary Slips : Salary slip for your period of working in BSNL can be accessed through the portal. You will also be allowed to download the salary slip for the whole period of time or the specific selected months slips.
Salary Structure : There are people who do not know their own salary structure and pay details. And you can find your basic monthly pay, incremental benefits, travel & food benefits that can be added to your salary. Along with that information regarding the EPF/GPF is also available.
EPF Passbook : The Employee provident fund of India has made it mandatory for every employee in an organization to maintain a PF account. Under this, 1.5% of your monthly salary will be saved in your own PF account under BSNL Company. You are also free to have a look at all your PF savings till now and can decide to withdraw the amount from EPF services as well.
Insurance of Employee : BSNL provides insurance service to all its employees where each one of them gets to select the type of insurance, term of insurance and benefits that comes along with it. If you want to make any changes or add any of your family members to your insurance plan you can do that while accessing the BSNL ERP ESS portal.
ERP Portal BSNL
What more can we do with BSNL ERP Portal – Employee Guide
Every employee might be familiar with all the features and benefits of this tool which is why we are going to list the reason, So, that you will understand how you can use the ERP portal to redefine your work and usage after completion of BSNL
Every employee can use ERP Portal on BSNL for – Major Uses
Employee Search
A search option is available where you can find out other employees and your colleagues who work in BSNL
You will be able to create your own profile and also change information that you want other employees to see
Working Times & Shifts
In this section you will be able to apply for leave
Quota overview of your present and completed leave
Joining reports, where you can find all information related to your date of joining
Benefits & Payments
Salary Statement for every month and selected period of time is available
Employee verification process can also be completed by giving your Government ID proof and address information
You can make use of this section to claim reimbursements such as travel and food etc
Loans can be requested and applied through the ERP portal from BSNL
Form 16 for your salary can be downloaded in just few clicks
At the end, information pertaining to the deduction as per Indian section 80 can be located here as well
How to use BSNL ERP Portal or BSNL ERP Portal Login Process
The process of logging into the ERP portal is quite easy and if you don't know how it's done then we will show you how it's done.
Open the ERP, Portal, official webpage at eportal.erp.bsnl.co.in
Enter your Username in "User" box and Password in "Password" box
Then click the "Login" button to sign in to the portal directly.
Once you have logged in to the portal you will be able to access all the benefits and services.
BSNL ERP Portal Profile Update – PI, Career, Jobs
Once the account is created, you should update your information on the portal so that others can view them. At the same time your bank details should also be updated here prior to 15 days before release of salary.
Once you login, "Employee Search" > then select "Change Own Data" option as shown in below image
Here you will have to fill the required information such as Name, email, extension and more
Once you have filled all the required information, click on "Review" button, then "Review and Save" page will appear
Note: While reviewing your information, if you miss out any information, don't upload a photo it will not be loaded. Now click on "Previous Step" and you will be able to edit those information or upload a photo again.
After confirming, click on "Save" button and now you have completed your employee information filling process
How to change Personal Information on the BSNL ERP Portal – Address, Bank Information & More
Once you have logged into the ERP BSNL portal, you will have access to change different information and there are few details that you should change readily. Information like address and bank information can be changed to receive payments and benefits directly.
Login to ERP Portal and then click on "Employee Self-Service" button on top
Now click on "Personal Information" tab
You can click on any given information and change it according to your preference
How to Reset BSNL ERP password
Sometimes you might forget your password which is a very common thing that happens to everyone, and if you have forgotten your password then don't worry because it takes less than a few minutes with the new ERP password retrieve process.
In order to get a new password, you can follow the below instructions.
Step 1: Go to the BSNL ERP Portal login page by clicking here
Step 2: Click on "Forgot Password? And click on the reset here link on the same page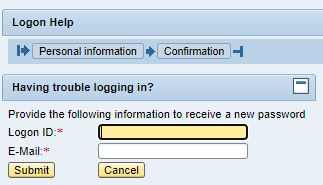 Step 3: You will immediately be redirected to a new webpage where you can reset your password using Username, Phone number and email address
Also Read: UCO HRMS Portal: UCO Bank Employee login portal at Hrms.ucoonline.in
Conclusion: It is not just important that we work, but it is also necessary that the employees should have an understanding and knowledge about their salary details, loans, provident fund and many other benefits that the company provides them, The employees can make proper use of the BSNL ERP portal to access such valuable information that can help them grow and benefit from it.