Friends, today here in this article, we will provide you all the information on how to check Canara bank balance, Canara Bank Balance Check, Canara Bank account balance check missed call, Net banking 2022, Mobile banking, toll-free number, and passbook at https://www.canarabank.com. So read this article from beginning to end.
Details of Canara Bank Balance Check
| | |
| --- | --- |
| Topic Name | Canara Bank Balance Check |
| Beneficiaries | Canara Bank Customers |
| Objective | To check the Balance |
| Category | Article/How to |
| Official Website | https://www.canarabank.com |
Canara Bank Balance Check
The Canara Bank is having a bunch of banking services available for their bank customers. The banks lets their customer to send and receive money by different methods now. In the same manner, the Canara Bank has given many ways to help the customers to check their Canara Bank account Balance
Earlier, for checking the Canara Bank Balance, the customer had to go to the bank, this was time consuming, so the bank has started digitalizing process for Canara Bank Balance Check. Here we will let you know the different enquiry services for the Canara bank customer.
Canara bank balance enquiry using Missed call
For any bank, missed call is the easiest way to check the balance, because it this accessible to all customers; you do not need any internet connection but simply have your mobile number registered with the bank. Not only, the missed call service assist on balance check but also gives home loans, mini-statement, and other banking-related services.
The Canara Bank customers can give a missed +919015483483, after which your account balance will pop up in English.
If you want to get your details in Hindi language, then should give a missed call to this number +919015613613.
Customers can also go for the number +919015734734 to check the last five transactions on the Canara bank account.
How to check Canara bank balance using Missed call?
Canara bank customers has to use their registered mobile number to view their balance on mobile. Follow these steps if you have registered your mobile number with the bank
Firstly, call the number 0-905-483-483 for English use and 0-9015-613-613 for the Hindi language.
After some rings, the bank will automatically disconnect the call
And then, you will receive an SMS which has your Canara bank's current account balance.
Canara Bank Balance Check through internet banking
Canara Bank customers can check their account balance directly from the internet banking (net banking) services portal by following the steps provided below.
First of all, visit the official portal of Canara bank internet banking, after which the home page opens on your screen.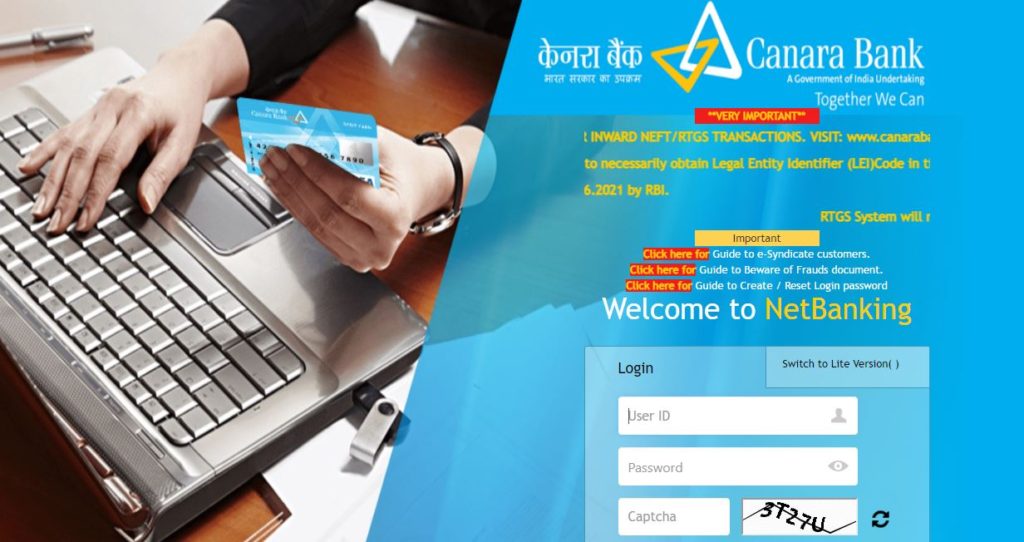 On the home page of the website, login using your customer id and password.
After this, from the menu, you will have to click on the "bank details" option
Now, a new page will open in front of you, which has the bank balance and mini statement options.
Here, you have to select the the bank balance tab, after which the balance will be displayed.
Self-registration to Canara bank net banking service
The Canara bank lets their customer with active debit/credit cards, or joint account holders (the 1st holder) will be able to get self-registration for net banking.
For registering, you need the following
An active debit/credit card.
Email id which is registered with the bank account.
Registered mobile number.
Your customer id and bank account.
Canara Bank Mobile Banking
Canara mobile banking application process is carried with the smartphone device. By downloading and install various application from the Google play store or App Store, you will be able to avail services based on your preference such as balance check, mini statement, and many more.
CANDI-Mobile banking
CANDI-Mobile banking is a transfer fund app provided by the Canara Bank used for banking services like RTGS and NEFT.
Canarabank elnfobook
This app helps the customer to check for bank balance and account statement online.
Canara DiYa
With the help of Canara DiYa, the canara bank customers will be able to open a savings account online and have their e-statement directly.
Canara bank Toll-free number
The customers of Canara bank can use the toll-free number to check the balance and other bank services. You can avail services with the number given below
Toll-Free Number – 1800-425-0018
How to do Canara Bank Balance Check using passbook?
The Canara bank customers are provided with password after they have opened a account with Canara bank. After issuing they can go to the bank branch to update the passbook regularly. This passbook reflects the transaction that has been done by you which will help you to learn about your balance
Canara Bank Balance Check through ATM
Canara bank customers will be able to view their balance via the ATM lobby, for this you need to follow these steps prvided below
First of all, you can either go to the Canara bank ATM or any other bank's ATM
After visiting the ATM, insert your debit card and enter your ATM pin by pressing the button.
Now, you have to select the "balance inquiry/check account balance" option.
You will now see your account balance after some time which will be displayed on the screen in front of you; you can take a receipt.
Also Read: City Union Bank Net Banking Login Online for Personal Banking Services
Canara Bank Balance Check – FAQs
How do I check my account balance without using my mobile number?
The Canara bank can check their account balance by net banking services or mobile applications. Here the customer needs to fill in their customer id and password from the menu and select the view balance. You will then see the details of your balance instantly
How do I check my last last five transactions on Canara bank by missed call?
If you are a Canara bank customer, you will be able to check your last five transactions by simply given missed call to 0-9015-734-734.
We hope you are provided with information on how to do Canara Bank Balance Check with the following methods above. If you find this article useful, share it across.