TJSB Net Banking Portal: The Thane Janata Sahakari Bank (TJSB) primarily serves Maharashtra's urban areas. The branches of Thane Janata Sahakari Bank are spread in many other states of India, such as Madhya Pradesh, Gujarat, Karnataka and many more. As the world is moving towards digitalization, TJSB bank also offers various digital services like SMS banking, Internet banking, dealing and allowance for UPS transactions as well as individual Internet banking. If you are a new account holder of TJSB, then this article is very useful for you. Here are a few steps on how to use and begin internet banking while sitting at home. You don't need to visit a particular branch to login and start your banking.
What do you get here?
Requirement for online registration of net banking.
How to do online registration for first-time users?
TJSB Net Banking Signup Procedure
Step 1: A TJSB customer ID is required. One can get this ID on the customer passbook on the very first page.
Step 2: Active mobile number: Your mobile phone should be active and the one you provided when you opened the bank account.
Step 3: Enter this mobile number to get the OTP via SMS for validation and verification.
TJSB Net Banking Login First Time
The user needs to follow some simple steps to register themselves for TJSB internet banking:
Step 1: The user needs to visit the official website of TJSB Net Banking on a computer or mobile: https://www.tjsbbank.co.in/.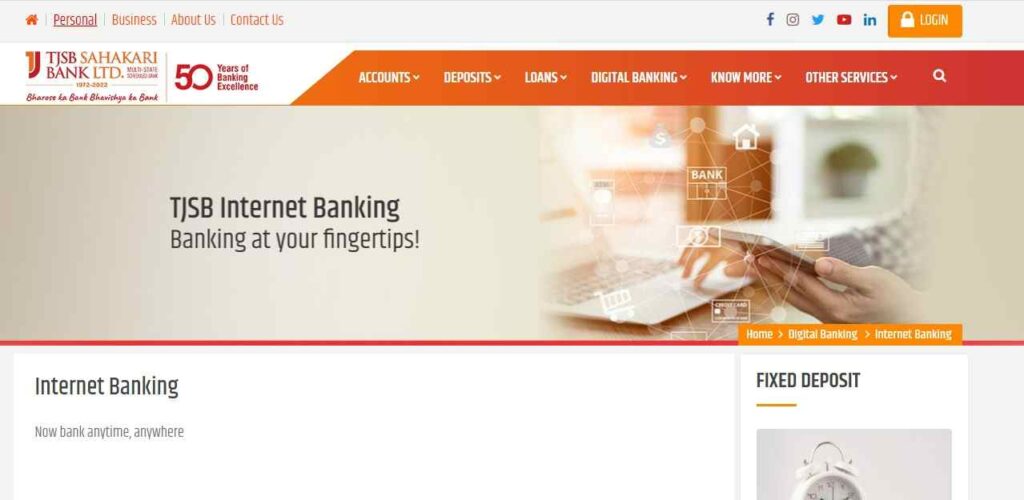 Step 2: Select the option to "Login" from the home page.

Step 3: On the redirected page, you need to click on the option to "Generate Password."
Step 4: Click on the "Proceed" button and go through all the steps that you need to follow for registration.
Step 5: On this page, the user needs to enter the TJSB customer ID, which is mentioned on your passbook, and click on the "GO" button.
Step 6: On the next page you need to enter your registered mobile number and select the option of "GO".
Step 7: The user will get an OTP via SMS for account verification.
Step 8: Now, after verifying your identity, you need to set the password for your TJSB internet banking.
Step 9: While setting a password, there are a few conditions you need to follow. This will be mentioned on the same page.
Step 10: After setting your password, go back to the home page of the website.
Step 11: Now, here, click on the "Login" page, enter your Customer ID and the password you have set.
After logging in, you are going to go and login on your mobile phone or computer for all other transactions from your bank. Only for the first-time user do you have to go through the login process.
Also Read: KVB Net Banking Registration, Login, Reset/Change Password
Conclusion
We have noticed a simple way to register for TJSB Net Banking online without visiting the bank location. If you have any questions or concerns, please let us know in the comment area below.