The Government of India's Department of Science and Technology have started the SERB Ramanujan Fellowship. Brilliant Indian scientists and engineers from outside India would be given scientific research opportunities in India under this scholarship program if they wish to return to India from a foreign nation. In today's article, we will be talking about the SERB Ramanujan Fellowship 2022, its objective, benefits, application form, application procedure, Scholarship amount, eligibility criteria, necessary documents, and so on.
Overview of SERB Ramanujan Fellowship
| | |
| --- | --- |
| Scholarship Name | SERB Ramanujan Fellowship |
| Started by | Science and Engineering Research Board |
| Benefits | Eligible students will get financial assistance |
| Beneficiaries | Scientists and engineers |
| Application Mode | Online |
| Department | Science of Technology, Government of India |
| Category | Central Government Schemes |
| Official site | serb.gov.in |
What is Ramanujan Scholarship?
The Science and Engineering Research Board is accepting nominations for the Ramanujan Scholarship scheme through an online application process. All Indian scientists and engineers who are currently working overseas will benefit from the SERB Ramanujan Scholarship. Beneficiaries will receive financial assistance to conduct research at any S&T institution in India, including university departments, other academic institutions, and national laboratories. The institution where candidates seek to conduct research must be willing to provide administrative and R&D basic infrastructural support to make research possible. Those who are interested in learning more about the Scholarship should read the detailed information provided.
SERB Ramanujan Fellowship Objective
The Department of Science and Technology of the Government of India's major goal is to assist great Indian scientists and engineers who wish to return to India after working abroad. Beneficiaries would receive recurring research funds through various government of India S&T agencies' extramural funding initiatives.
SERB Ramanujan Scholarship Benefits
The scholarship benefits will only be available to selected candidates for a five-year period. The Scholarship cannot be extended. Beneficiaries will receive the following
A consolidated value of Rs. 1,35,000/- per month, including HRA.
Each candidate would be awarded a research stipend of Rs.7.00 lakh per year to cover expenses such as consumables, travel, research personnel, and contingencies.
As overhead charges, each Candidate will earn Rs.60,000/- each year.
Scholarship Eligibility
Applicants must have a Ph.D. in science or engineering, a master's degree in engineering or technology, or a doctorate in medicine, among other qualifications.
The age of the candidate shall not exceed 40 years.
Applicants must have relevant work experience.
Applicants must have a demonstrated/outstanding track record, as evidenced by research publications and awards.
The candidate must not be employed at any Indian Institute/University on a permanent, tenure-track, or contract basis.
At the time of nomination, the applicant must be working abroad.
SERB Ramanujan Scholarship Selection Process
Applicants must submit their candidacy after choosing their preferred fellowship institute.
An empowered Search- cum-Selection Committee will choose applications for this fellowship programme on a regular basis.
Necessary Documents
You need to have these necessary documents listed below to apply for the SERB Ramanujan Fellowship Scheme
CV of Nominee
Nomination Letter (On letterhead, duly signed and stamped)
Plagiarism undertaking by the Principal Investigator
How to apply for SERB Ramanujan Fellowship 2022 Online?
Follow these step by step procedure below to complete the SERB Ramanujan Fellowship Application Procedure.
First, visit the official website of the Science and Engineering Research Board.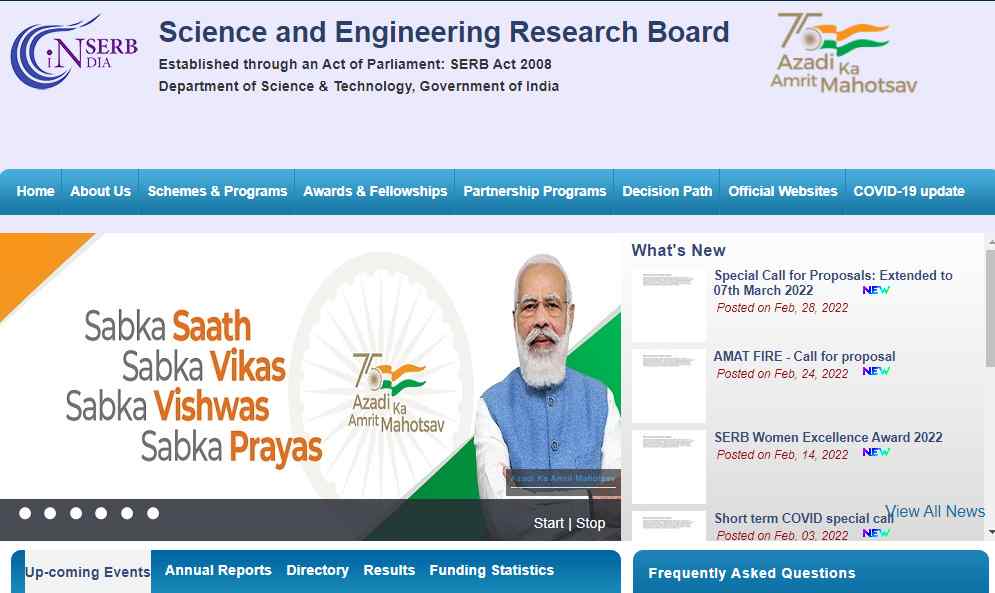 On the home page of the website, click on "Awards & Fellowships" from the the menu bar.
After this, a drop-down list will open, here you have to select the "Ramanujan Fellowship"
Now, read the instructions show on your screen and then click on "Apply"
You will redirected to a new website, click on "Ramanujan Fellowship" link given under Awards & Fellowships
A new page opens where you have to select "Click here to register" option.
Enter all the information asked in the registration form that opens in front of you.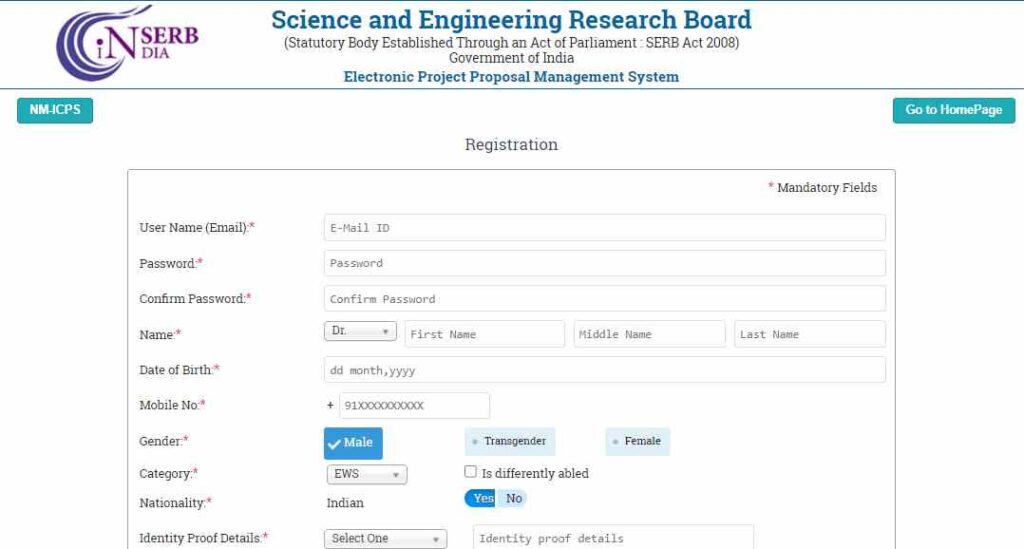 Username
Password
Confirm password
Name
Date of birth
Mobile number
Gender
Mobile number
Category
Other details
Once you are done, solve the captcha code and hit "Submit" button.
The application form will appear on the page once you have completed the registration and confirmed your mobile and email ID by entering the OTP.
Fill in the rest of the application's important details.
Please upload the above-mentioned papers.
After reviewing the form, click the "Submit" button to submit it in its entirety.
Helpline Information
We have provided all information related to SERB Ramanujan Fellowship, even then if you have any queries, you can reach out to the details given below
| | |
| --- | --- |
| Dr. Monika Agarwal, Scientist 'E' | Science and Engineering Research Board 5 & 5A, Lower Ground Floor, Vasant Square Mall,Plot No. A, Community Centre, Sector-5, Pocket-5, Vasant Kunj New Delhi-110070 Tel: +91-11-40000304Email: monika[at]serb[dot]gov[dot]in |
| Dr. Shiv Mohan Singh, Scientist 'G' | Email: shivmohan[at]serbonline[at]in |
FAQ's
When will I be able to submit my nomination application?
Applicants may submit an application at any time during the year. There is no deadline for submitting your application.
Who is eligible to apply for this programme?
All Indian scientists and engineers who wish to return to India to conduct research in any science and technology institution.
How long will this fellowship programme last?
Fellows will receive a research grant for a term of five years, which cannot be extended.
How will the candidate be chosen?
The selection committee will pick the nominees on the basis of their academics, research work, and experience on a regular basis.