PSPCL HR: The state Government of Punjab controls the Punjab State Power Corporation Limited (PSPCL) which is the famous power generating and distributing Firm. The company provides power to millions of people in the state, guaranteeing that all connected users have power 24 hours a day, seven days a week.
This firm has created thousands of employment opportunities for the state people and have been hiring new candidates every year. The management of PSPCL has their own online portal where the employees can view their salaries and also company to ensure all employees receive their salaries on time. To obtain login information, every permanent employee should register. Employees can access their salary slip information online once they acquire their login credentials.
In this article we will provide you with all information related to PSPCL HR, Account Registration, Forgot Password and PSPCL HR login at https://pshr.pspcl.in. So read this article completely.
Overview of PSPCL HR
| | |
| --- | --- |
| Portal Name | PSPCL Portal |
| Launched by | Government of Punjab |
| Objective | To access PSPCL Pay Slip online |
| Beneficiaries | Employees of PSPCL |
| Category | Punjab Govt Scheme |
| Official Website | Pshr.pspcl.in |
Purpose of PSPCL HR
The PSPCL payroll system is accessible to all PSPCL employees, regardless of their status. Employees can get their monthly salary slips via the HRMS portal. Employees can download their pay slips by following the steps given in this article. For this, the employee has to first register themselves on the official website of PSPCL Portal at Pshr.pspcl.in
PSPCL HRMS Account Registration Procedure
Follow these steps below to register online on the Pshr.pspcl.in Portal
Once the home page of the website opens, from the menu, click on "Employee Corner".
After this, click on the "Registration" option.
Now, a new page will open where you have to enter your "Employee ID" and "Date of Birth."

Note: The employee ID is your work ID.
Once you are done entering all the above details, click on "GO" 
In the end, account activation will be done and you will be able to create your account password.
How to do PSPCL Login?
After successful registration, you can login to the PSPCL Portal by following the below steps
Visit PSPCL official website at https://pshr.pspcl.in
Once the home page opens, click on "Employee Corner".
After this, the login form will open, here fill in your login ID and Password.
Once it is done, click on the "Login" button.
After you login, you have to select the "Pay slip" option.
Enter the month and year of the pay slip that you're looking for.
After that, Download the salary slip to your device.
In this way, you will login to the PSPCL HRMS account online.
PSPCL HRMS login Password Reset Process
If you have forgotten your PSPCL HRMS login Password, you can reset it and then login again to know about your salary details. For this, you have to follow the step by step procedure below.
First, go to the PSPCL HRMS website portal and then the homepage opens.
On the home page, you have to click on the "Forgot Password" option.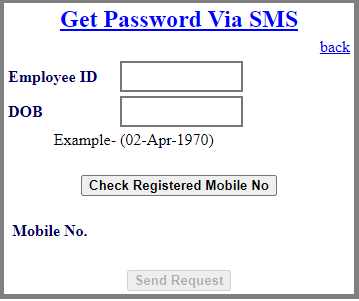 After this, a new page will open where you have to fill in employee ID and date of birth.
For the page to display the contact number, select the option "Check registered mobile number."
When you select "Send request" the page will send an OTP code to the phone number you provided.
Create a new password for the account and use the OTP for verification.
Also Read: CPS Account slip 2022, Pay Slip Download Procedure at http://www.cps.tn.gov.in/public/
FAQ's
How Can I reset my PSCPL HRMS account User ID?
The PSPCL Employees can easily retrieve their user ID incase they forgot by providing the date of birth and registered mobile details. Also, you can have a word with your department head for your details. Once you get your User ID, you can login and view your Payslips online.
What is the official website of PSCPL HR Employee Corner?
https://pshr.pspcl.in/
Where Can I Find PSPCL Employee Id (For Pensioners Only)?
Direct link: https://pshr.pspcl.in/frmFindEmp.aspx