Students can now register and log onto the MP SIS Portal. After registration yourself, you can access all features by logging into your account. Do read the entire article to learn everything there is to know about registering for and using the MP SIS portal.
The government of Madhya Pradesh has stated that it will hold undergraduate and graduate exams for students in their final year. The Madhya Pradesh Student Information System (MPSIS) will oversee the exams. Additionally, students can complete the entire application procedure on the portal online.
Some college names such as APS university, DAVV college, MP Bhoj, Vikram university, jiwaji university, barkatullah university, BU Bhopal university, etc. all come under the Madhya Pradesh state university.
Students applying for the final year exams can register themselves by visiting the official portal https://mponline.gov.in/portal/
MP SIS Registration 2022
In this article, you will learn about how to register and apply to the MP SIS exams, the login process, and college visits.
MPSIS Student Registration Documents
Students/ Applicants ID or scholar is the most important thing to start your registration process at the MPSIS portal, so ensure that you have it ready when you start your registration.
Features of the MPSIS portal
Scholar registration management
Account management
Student database management
Fee collection management
Enrollment and examination process
Apply Online for the Final Year Exam (UG & PG)
Follow these steps to apply online for the final year exam on the official portal of MPSIS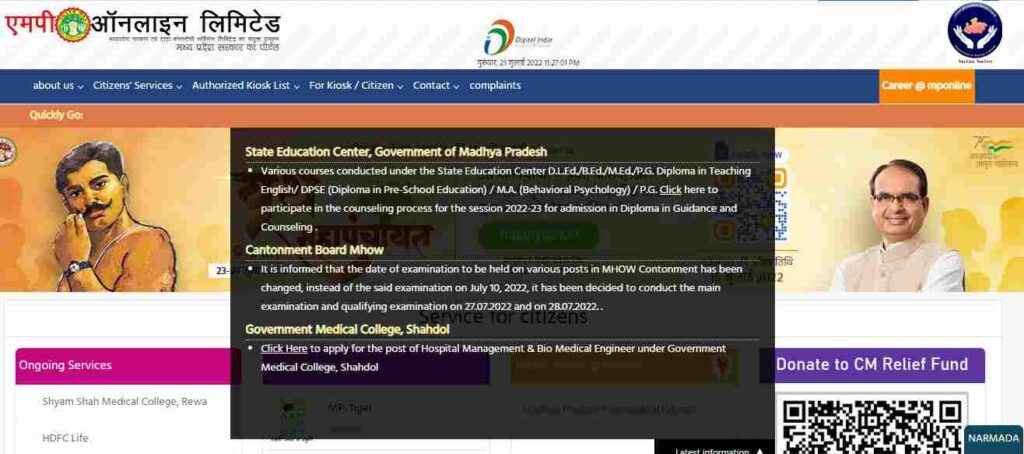 Click on the "Student Registration" link on the home page.
Select the university from the drop-down menu.
Enter your Applicant ID and date of birth.
After this, you will be successfully registered for the open book exam.
Student Login Procedure at mponline.gov.in/portal
Once the application is successfully registered on the portal, they can log in to the portal by entering the login credentials.
MP SIS college-wise registration
Below mentioned are the name of colleges and their official links:
Also Read: MPIGR Portal Login 2022 Login, E Stamp Duty Registration at www.mpigr.gov.in
FAQs
How can an applicant register for MP SIS?
The applicant can get registered by visiting the official portal of the university or by visiting https://mponline.gov.in/portal/ and following the above-mentioned steps.
What is the Full form of MP SIS?
Madhya Pradesh Students' information system
Who are eligible for applying for the MP SIS Exam 2022?
Final-year undergraduate and post-graduate students are eligible for applying to the MP SIS exam 2022.
What is the mode of the Undergraduate and Postgraduate exams conducted by MP SIS?
The mode for exams conducted by MP SIS is an open book exam.