The Government of Andhra Pradesh have started the Jnb Nivas Portal to assist the students in the state. Today in this article, we will provide you steps on how to Download Gandiva Report, Get Naipunya Vikasam Report, Get Department-wise bill abstract on the jnb nivas at https://jnbnivas.apcfss.in/. So read this article completely.
Jnb Nivas Website Update
The jnbnivas official website has been changed from Jnanbhumi to apcfss at https://jnanabhumi.ap.gov.in/nivas/. Previously it was redirecting to https://jnbnivas.apcfss.in/. Therefore, you will be automatically redirected to www.jnbnivas.apcfss.in when you log in to the previous website, www.jnanabhumi.ap.gov.in/nivas.
How to download Gandiva Report at jnb nivas portal?
Follow these steps given below to download the Gandiva Report on the jnb nivas Portal.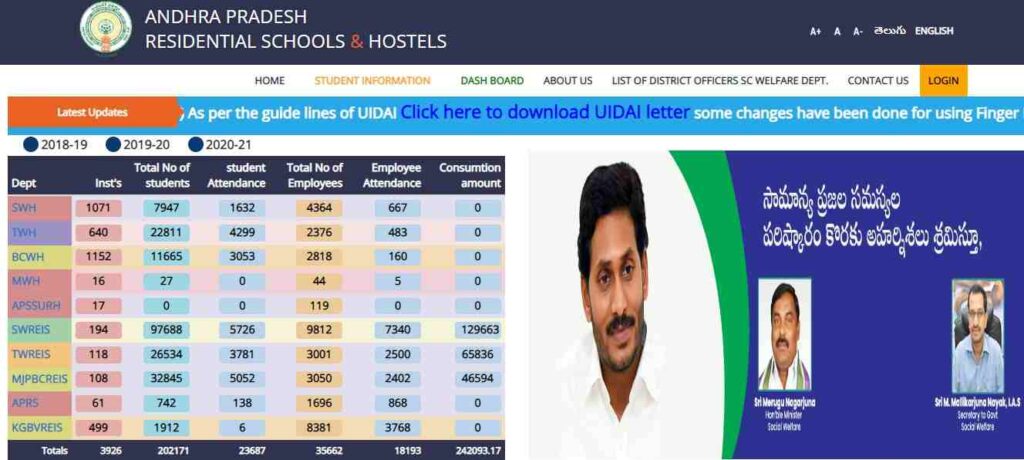 Once the homepage open, click on the "Gandiva Report" or click on this link https://jnbnivas.apcfss.in/BatteryTest.edu.
After this, a new page will open in front of you, here you will see the following information.
Eligible students
Battery test
Percentage.
Now, choose the department from the list which is SW Hostels, TWD Ashram schools, SW Residential schools, TW Residential schools.
Once you have chosen one, a new page will appear with the district-wise list of districts and percentage.
Click on your preferred district, select the mandal from the list and then you will see the list of hostel names for the selected mandal.
Finally, select the hostel nam and you will see the mark of each students name -wise and also the information about the each test like
30m flying
Starting Board jump
Medicine ball put
Flexibility test
200m run
Hand-Eye coordination
Vertical jump
6*10 shuttle etc.
View or Download Naipunya Vikasam Report at jnb nivas?
First, visit the jnbnivas official website at https://jnbnivas.apcfss.in/.
Once the website opens, click on the "Naipinya vikasam" option or go to this direct link: https://jnbnivas.apcfss.in/NaipunyaVikasam.edu
After this, you have to select the "Hostel or school Count" from the list.
Now you will see the hostel names list and information like IT and CT trainers, English and life skill trainers, No. of students admitted, No. of students present and Attendance percentage.
You can also download this information by clicking on the Excel Icon.
How to avail Department-wise bill abstract from JNB Nivas?
First of all, you have to go to jnbnivas official website at https://jnbnivas.apcfss.in/
On the homepage, click on the "Department-wise bill abstract" or click on the direct link below
jnbnivas/.apcfss.in/DepartmentWise InstituteAbstract.edu
After this, enter all the information asked like
Fill the columns with required details like
Department (TWH, SWH, BCWH)
Category (Nilayam, Ashram schools, CB home, Converted, DAH, General, Integrated, Special, Hostel Converted Residential school)
Month
Bill type (Cosmetics, OOE, Tutors, Diet, Rent, water, Postal, OE, TA)
Once it is done, click on the "Get Details" button.
You will then see the relevant information as a table on your screen.
Also Read: Apply Online For Jnanabhumi Scholarship 2022, Application Status, Renewal
In this article, we have provided all information related to jnbnivas portal, if you find this article beneficial then share it with your friends and support us.