EWS Certificate Gujarat – The EWS Certificate is nothing but the income certificate that shows the income of a person. This certificates is created for economically vulnerable people in society. For general category people across India, the EWS certificate is the proof document for availing reservation in various places. EWS Certificate has been introduced in 2019 on 12th January and provided 10 % to the general category. This is not applicable for OBC, ST, SC categories.
Today here in this article, we will be explaining all information related to EWS Certificate Gujarat, how to apply for the EWS Certificate in Gujarat, Eligibility Criteria, Necessary Documents and more. So read this article completely.
Details of Gujarat EWS certificate
| | |
| --- | --- |
| Topic Name | EWS Certificate Gujarat |
| Launched by | Gujarat Government |
| Objective | To apply for various schemes launched in the state |
| Category | Gujarat Govt Scheme |
| Official Website | https://www.digitalgujarat.gov.in/ |
Use of Economically Weaker Section certificate
With the help of EWS certificate, the people can avail services in school admission and colleges. Also one can avail services in government offices using EWS certificate. The Government of Gujarat has also launched the Economically weaker section certificate law on 14th January 2019. This document has benefited many applicants in the state of Gujarat and across India.
Candidate who are eligible will be able to apply for the Economically weaker section certificate either through online or offline according to their preference. But for this, they are required to avail several documents.
EWS Application Fee
Each state levies different application fee for the EWS application process. Before proceeding, the applicant have to check the state nominal application fee.
Necessary documents for EWS certificate application
If you want to apply for the EWS certificate application, you need to have the following documents mentioned below
Aadhaar card of the Applicant
Passport size photo (Recent)
Income certificate or proof documents:
An employer certificate.
Form 16-A and ITR for the past three years.
Business ITR
A declaration before Talati.
Identity proof documents
Aadhaar card
Passport
Identity card.
PAN card
Voter's card
Residence proof document
Utility bills such as water or electricity bills.
Bank passbook
Guarantee letter
Eligibility Criteria
You need to fulfill these Eligibility criteria mentioned below to apply for the Gujarat EWS Certificate
The applicant must be a permanent resident of Gujarat
Annual income of the applicant's family must not be more than Rs. 8lakhs.
Applicant's family must not have more than five acres of land.
The applicant residential area should be should be less than 1000 sq. ft.
The candidate must belong to general category.
EWS Certificate Online Application Procedure
Follow these step by step procedure given below to apply and login to the EWS website portal
First of all, you have go to the official website of EWS Certificate at https://www.digitalgujarat.gov.in/
Once you see the home page of the website, click on "Login" button.
After this, you will see a login form opened in front of you.
If you are a existing users, then, enter your username and password in the given space.
Now solve the captcha code and select the language.
In the next step step, you will asked to enter your Aadhaar number
After entering it, click the "Continue" button.
You have to make sure, you enter all the details to generate the reference number.
Next, upload all the necessary documents asked to you
Once it is done, verification will e done and after approval, you will be sent a confirmation message on your mobile number.
Finally, you can visit the respective offices to get your EWS certificate.
EWS Certificate Gujarat Reset Forgot password at digitalgujarat.gov.in
If you have forgotten your EWS Certificate Gujarat login password, you can reset it by following the below steps
First, go to official EWS web page at digitalgujarat.gov.in
On the home page, click on "Forgot Password" option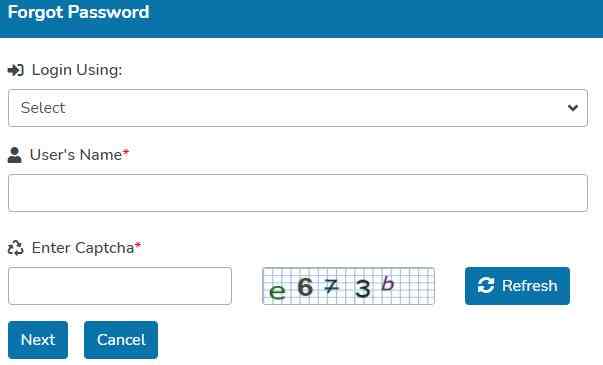 After this, you will see a page where you have to enter username and captcha code.
Now, click on "Get OTP" button, after which you will get a OTP on your registered mobile number.
Using this OTP, you will be able to verify and create a new password.
EWS Certificate offline Application Procedure
First, you need to download the EWS Certificate application form from the official web portal of EWS. Below is the dorect link
Direct link: https://www.digitalgujarat.gov.in/CitizenNew/ServiceDescriptionNew.aspx
After this, you have to fill all the information asked in the form and attach your recent photo.
Now, attach all the necessary documents.
Check all the details once in that form and then submit the form to the authorized offices.
NOTE: You have to provide the mobile number which is active, so that, you will get the status of your application.
The authorized officers will then verify your application and after it gets approved, the details will be uploaded
In the next process, you will get a reference number from the officers.
You will be able to check your application status with this reference number
FAQ's
What is the full form of EWS?
The full form of of EWS is Economically Weaker Section.
Can applicant belonging to OBC, SC/ST category can apply for EWS certificate?
No, the EWS certificate is only available for general category. This is not a caste certificate but like a income certificate for a candidate.
How long does the EWS certificate?
Each state has different validity period for EWS Certificate. Normally, the period ranges from one year from the issue date.
How long will it take to complete the EWS certificate application process?
This depends on the applicant's state. Most states take up to 21 working days.