CG E District Registration has been initiated by the State Government of Chhattisgarh to help the common citizens of the state apply for any certificates online. Till now peoples of the state Chhattisgarh go here and there in the government offices to receive their documents like income certificate, caste certificate and resident certificate etc, but with the launch of this e district cg it is made easy by allowing the individuals directly apply for the above certificates online. This article lets you know in detail about e district cg, the ways to register it online and login in the portal to enjoy the benefits offered by this portal.
Details of CG E District Registration
| | |
| --- | --- |
| Name of the portal | CG E District Portal |
| Started by | Chhattisgarh Government |
| Mode of application | Online |
| Objective | To make certificates available online |
| Category | Chhattisgarh Govt Scheme |
| Official Website | https://edistrict.cgstate.gov.in/PACE/login.do |
About Chhattisgarh e District
With the aim of providing government to government services to the citizens, the Department of Electronics and Information Technology (DeitY) has initiated Chattisgarh e District. Apart from which e district cg also improves the experience and enhances the efficiencies of the various departments at the district level. This portal ensures integrated and seamless delivery of citizen services by district administration through automation of workflow, process redesigning and data digitization across participating departments.
Key Objectives of eDistrict CG
Electronic delivery of identified high volume citizen centric services at district and sub-district level
Access to efficient, reliable, transparent and accountable services of the Government
Optimum utilization of the information technology to benefit the common people
Efficient delivery of services like providing certificates with improved service levels
Reduce service time and costs for the Government and Citizens
Significant Benefits of CG E District Portal
Provides online facility for all common citizens
Allows the individuals to apply for any certificates at the ease of staying at home
One stop platform to meet all the certificate needs of the common people
Assist in checking the status of the application done
Various certificates provided by the government like SC/ST Certificate, Birth Registration & Certificate, Marriage Registration & Certificate and Domicile Certificate can be applied online
Saves time of an individual
e District Chhattisgarh Services
Services related to various departments of Chhattisgarh state are provides for public welfare under this e district cg project
Certificate Service
Licensed Service
Revenue Service
Certificate Services
The individual can view the list and details of all the certificates provided by the concern Government departments through these services. This process of getting the certificates in online takes 20 to 25 days to complete
Birth Registration and Certificate
Domicile Certificate
Death Registration and Certificate
Death Certificate Reform
Marriage Registration and Certificate
Application form for joining state level handicrafts prize competition
Forest-Registration of Wood
Transfer Certificate for Government School
Application for additional qualification registration
Sericulture-aid under Mulberry Plantation
Scheduled Castes/Scheduled Tribes Certificates
Other Backward Class Certificates
Income Certificate
Application for temporary registration
E-Courts-Case Registration
Choice Birth Improvement
Marriage certificate reform
Choice Death Correction
Application for license under Chhattisgarh Scheduled Commercial Traders Instructions and Guarantee Order,2009
Renewal licenses under Chhattisgarh Schedules Commercial Traders Instruction and Guarantee Order, 2009 application.
Application for a license under Chhattisgarh Motor Spirits and High-Speed Diesel Oil (License and Control) Order, 1980
License Service
With the help of these services, one can view and get the details of all licenses needed for your business by the concerned department online. It would take one to one and half month for providing this online license
Agriculture-Fertilizer License
Ayush-Permanent Registration Form
Horticulture-New Seed License
Weights & Measure- Manufacturers New License
Dealers New License
Weights & Measure- Repairer New License
Food Registry (Registration for Small Cottage)
Pesticide License
Renewal of Dealer License
For Shop and Installation Registration
Including a new type of Seed License
Renewal of Seed License
Renewal of Manufacturers License
Application for approval of retail sale for forest product
Trade License
Renewal of the Reformer's License
Application for clearance license to run the installed sommil
Revenue Service
Below mentioned services can be availed through the revenue service of e district cg and it might take at least three months to get the license
Application for a license under Chhattisgarh Kerosene Merchant License Order 1979
For a non-digitized copy (land document etc.)
Court Order Certificate (Revenue Court)
Case List (Revenue Court)
For duplication (land documents etc.)
Revenue Services (from 5 to 25 million, Agricultural Land/Converting RBC 6 (4)-Relief Assistance (Natural Disasters)
Revenue Services (for agricultural land/convert farmer's book)
(Agricultural Land/ For Converting Transfer, for the lease no-objection certificate)
Revenue Services (for agricultural land/converted demarcation)
For renewal lease, for lease transfer (Revenue)
Revenue Services (for lease, less than five lakhs)
Financial assistance for the union/institutions and players
Procedure to do CG E District Registration online
How to apply online on Chhattisgarh e district portal?
Follow the below mentioned steps to register through the official portal of Chhattisgarh eDistrict portal
First, go the official site of Chhattisgarh Government e district portal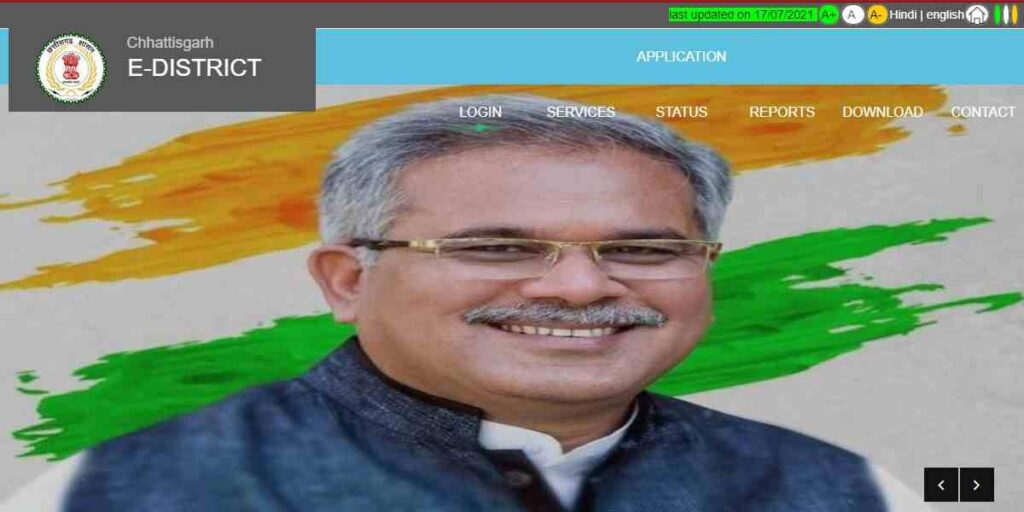 Press the "Certificate Services" option from the service menu which is visible on the page of the portal
Once you are done with selecting the certificate service option, a page will open with "List of Service"
Then click on the certificate which you need from the number of list
Press on the "Login" button by providing the user id and password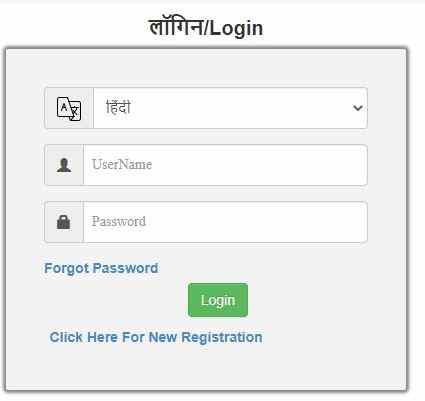 In case you are new user, enter the "New Registration" button to register yourselves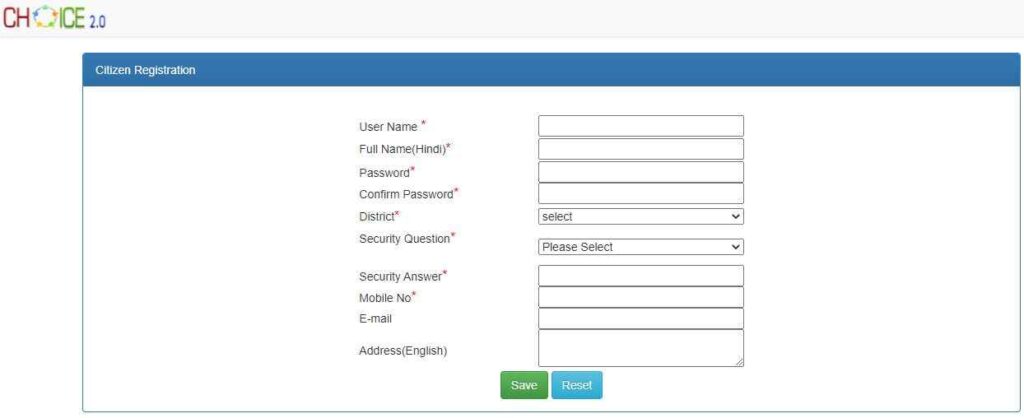 Now fill up the details required in the registration form to create your account and log in again into the portal
After which apply for the needed certificate by clicking on the appropriate registration and certificate option
Then fill up the application form and upload the documents that is required for providing the required certificate
Finally, now the online application process is complete
Note: Once the application is submitted, you will receive a reference number as an acknowledgement
Steps to track the Status of CG E District Application
If you want to track your submitted CG E District Application, you have to follow the below steps
Visit the official website of Chhattisgarh e District, to check the status of online application
Now on the home page of the official website click on the "Check Application Status" option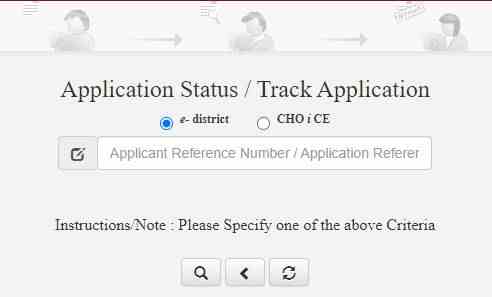 After which, enter your registration number to view the status of your application online
Ways to see the list of Certificate Services on Chhattisgarh e District Portal
Follow these step by step procedure to view the list of Certificate Services on Chhattisgarh e District Portal
First of all, go to the official website of e district cg portal by clicking here.
Then on the home page displayed you will see the Services section
On the Service Section, choose the "Certificate Service" option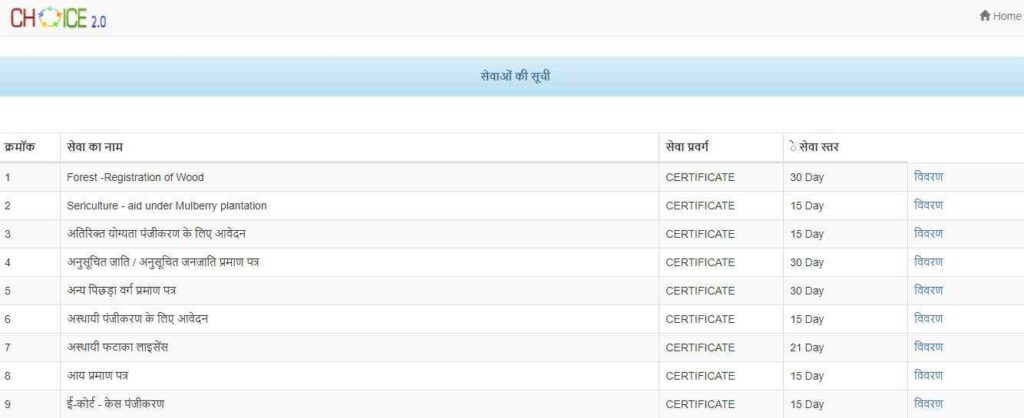 Once the Certificate Service option is chosen, next page will be displayed in which you will see the list of services.
Helpline
Below mentioned helpline number and email id, will assist you if you have any queries related to e district cg portal
Toll Free Number: 0771 2533-350
Email ID: [email protected]
We hope, you are provided with all the information related to chhattisgarh e-district portal online registration. If you find this article beneficial then show your support by bookmarking our website at sarkariyojanaindia.com. Also post your queries related to CG E District Registration in the comment.