SBI Complaint Registration: The State Bank of India (SBI) is one of the oldest and renowned banks which has served citizens from the first decade of the 19th century. SBI offers both banking and financial services headquartered at Mumbai Maharashtra.  This bank has 23% market share in the the banking industry. Also the bank has their own Customer Relationship Management (CRM) and Cash Management Services (CMS) which can be accessed online and offline. Today here in this article, we will discuss this CMS, how to do SBI Complaint Registration, check the SBI Complaint status, Grievance Redressal at Cms.onlinesbi.com. So read this article completely.
SBI Online Complaint and Status Check
| | |
| --- | --- |
| Topic Name | SBI complaint registration or SBI Grievance redressal |
| Name of the Bank | State Bank of India |
| Sector | Public |
| Registration Mode | Online and Offline |
| Category | Article |
| SBI Official website | https://sbi.co.in/ |
| Official website of CMS SBI | https://cms.onlinesbi.com/CMS/ |
SBI Grievance Redressal
The State Bank of India has developed the CMS (Cash Management Services) to solve the issues faced by the bank customers while making money transactions. Different types of complaints are dealt with by CMS. It facilitates and ensures the accuracy of both online and offline transactions. The various types of complaints are as follows:
ATM related
Advances
BHIM SBI Pay (UPI)
Demat
Deposits
General Banking
Govt. schemes
Remittances
NRI services
Technology: Internet Banking, Prepaid cards, Yono lite SBI
Unauthorised transaction
Yono
SBI Online Complaint Procedure
You will be able to do the sbi complaint via online and offline. Here in this article, we will explain both of these ways in a step by step procedure.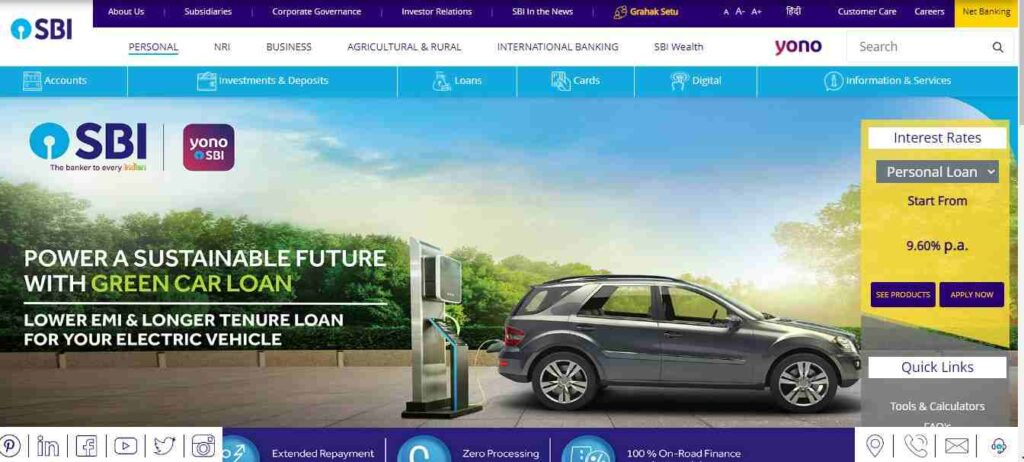 Once the homepage opens, click on the "Customer care" option available on the right corner of the page.
After this a new page will open with five options.
SMS unhappy
Send Complaint
Register complaint
Customer Request
Complaint form.

From this, select the "Register complaint" option.
Now, a new page opens where you will see the complaint registration form.
Here, you will have to select the Raise Request and the Complaint Type from the drop-down list.
Once you are done, click on the "Submit" button.
In this way, you will register the SBI Online Complaint.
Procedure to file a Complaint at SBI Customer Care
Click on the link below to first open the customer complaint form.
https://cms.onlinesbi.com/CMS/ (or) https://sbi.co.in/web/customer-care/complaints-and-compliments
Once the form open, fill in all the information like
Customer type (Existing SBI customers OR Non-Customers – Prepaid card holders, Metro or Canteen card holders)
Account number
Complaint name
Branch code
Mobile number
Complaint details.
Fill in all above details very carefully.
Next, enter the brief details about the complaints within 500 characters.
Solve the captcha code and then click on the "Submit" button.
In case you wish to re-enter these details, Click on the "Reset" button.
SBI Complaint Status Check
Also, you will be able to check the status of your SBI complaint.
For this, first, you have to visit the official website at https://crcf.sbi.co.in/ccf/.
Once the webpage opens, fill in your Complaint Ticket number, Mobile number.
After this, solve the captcha code and then click on the "Submit" button.
You will then see the status of your SBI Complaint on your screen.
How to check the status of SBI complaint visa SMS?
It is not possible to get the status of a State Bank of India complaint via SMS. To check the status of a state bank complaint, dial 1800112211 (or) 18004253800 and provide the ticket number.
How to Register State Bank of India Complaint Offline?
If you want register your complaint State Bank of India Complaint Offline, you can follow these steps given below
First, go to your nearest SBI Bank Branch where you hold the account.
Get the "Complaints Book" from the Customer Service Executive. Executive or General Manager.
Once you get it, fill the complaint.
Submit it and then you will be provided with an acknowledgement copy.
Also, you will get an SMS about this to your registered mobile number.
Your complaints will be solved within two week of the registration.
If not, then they are bound to give you an explanation.
If the problem is not resolved in the branch office, you can also file a complaint with the regional head office manager. They have five days to solve the problem.
Also Read: SBI Credit Card Payment 2022 online at Sbicard.com
We hope, you got information on how to do SBI Complaint online, offline, check the SBI Complaint status. Share this article across if you find it useful.