In Andhra Pradesh, the AP cfms citizen will be able to check their bill status through the official website started by the concerned department. Today here in this article, we will provide you all the information related to Andhra Pradesh CFMS Bill Status check using the cfms bill number & year. Also we will be providing you details on AP cfms beneficiary search by pan number, Aadhaar number, Beneficiary number, Bank account number through CFMS login at https://cfms.ap.gov.in.
Details of AP CFMS Bill Status
What is CFMS?
The full form of CFMS is Comprehensive Financial Management System is an online application designed by the Government of Andhra Pradesh in collaboration with Finance department. The CFMS is introduced by the Andhra Pradesh Government for Financial management systems and services (APCFSS)
How to Check AP CFMS bill status 2022?
Andhra Pradesh CFMS Bill Status
You will be able to check the AP cfms citizen bill status on the official website by following these simple steps provided below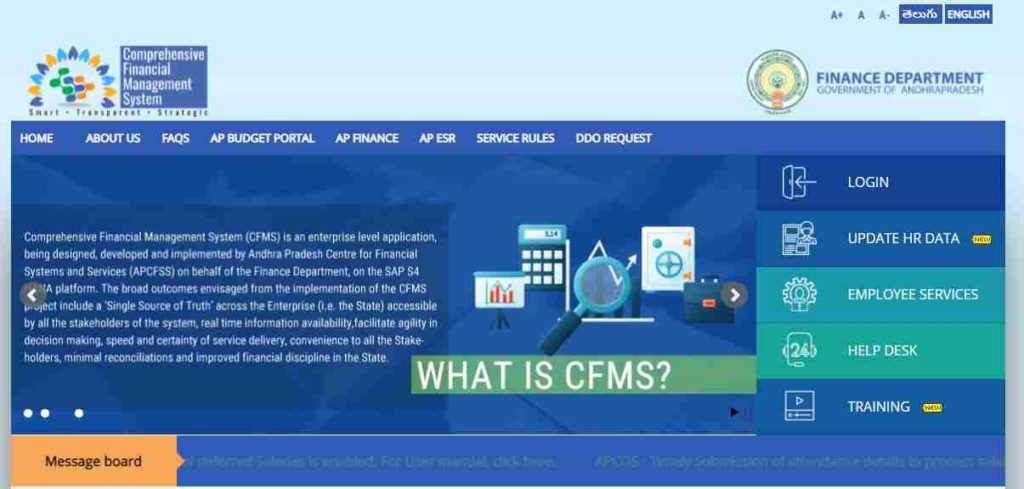 Once the home page of the website open, click on the Expenditure links available under the Citizen services tab at left bottom corner on your computer screen.
After this from the drop down, choose the Bill status option.
Now, you will be redirected to Citizen Bill status page with different columns.

Here in this page, you will have to fill in Year and Bill number in the space provided and then select Enter button.
You will now see the AP cfms Bill status (Approved or Not Approved or Pending), DDO, District, Treasury Office, HOA, Gross Amount, Deduction and Net amount.
In this way, you will check the AP cfms Bill status.
How to do AP CFMS Beneficiary Search?
You will get the Beneficiary details and Detail flow of Bill, for this you have to following the steps given below
Firstly, you have to visit the AP CFMS Beneficiary Search page by clicking on the link below

After this, on the page that appears in front of you, select the option with which you want to search like Aadhar card, PAN number, Bank Account Number, Beneficiary No, Request Number.
Now after selecting any of these, enter the number of your credential (It should be same as your credential and selection in the above column)
After that, click on the SEARCH option.
You will now get the details like Beneficiary code, Name, Address, PAN number, Aadhar number, GSTIN No, Bank details.
Benefits of AP CFMS Portal
Some of the benefits of AP CFMS Website are as follows
Effectiveness in control
Efficiency in financial transactions
Convenience for stake holders
Sustainability in both current and future
Transparency in operations
Accountability for decisions and performances
What are the services provided by CFMS?
The CFMS started by the Andhra Pradesh government provides the following services which are classified into 4 types.
Government to Government (G2G)
Government to Citizen (G2C)
Govt to Employee (G2E)
Government to Business (G2B)
G2G services:
G2G services is nothing but a budget allocation done by the Finance department, Heads of the department, treasuries, Drawing and Disbursement Officers (DDOs), RBI, AG, GSTN.
G2C services:
These are services offered by the Government to Citizen such as Challan payment or refunds using online gateways and manual payment, banks, social security pensioners, tax payers, etc…
G2E services:
G2E services are self-service which maintains the employee information, also the online creation of employee challans for loan repayments and other payments towards government will be done.
These are the self-service for maintenance of employee information and also online creation of employee challans for loan repayments and other payments towards government.
Service to retirees such as challan payments. It also enhances user interface including mobile platforms
Key Changes or Improvements of AP CFMS:
CFMS helps the citizens to pay all their availed services across departments by sitting at their home or office.
The citizen will not have to go to any treasury offices for challans. This can be created for all head of accounts from anywhere via online.
Automated restoration of paid memos.
Accounting will be carried out with minimal to no errors.
How to make use of the Services Provided by CFMS?
You will be able to use the services provided on the CFMS by following these simple steps below
First of all, you have to go the official website of CFMS by clicking this link https://cfms.ap.gov.in/
Once you see the website home page, on the bottom, you will see all the services provided by CFMS by scrolling the page down.

Choose one according to your preference and enter the details.
You will then be able to use that particular service.
In this way, you select different services to make use of that particular service on the AP CFMS Portal online.
Citizen Services
Citizen can avail the following services on the AP CFMS Portal
Receipts links : In this you will get to know the about PD challan, Expenditure reimbursement challan, Cash recovery challan, citizen challan, Employee challan, civil deposits, Judicial challan, CM relief fund, Capital Fund development, Escort charges, Challan status, Guard charges, Transaction cancellation
Expenditure links: Here you will find links regarding Bill status, Beneficiary Account statement, DDO search, Beneficiary search, Payments.
Budget
HR
Department services
Budget: It has Budget allocated, Budhet proposal status details.
Expenditure
Receipts
HR
PD Accounts
Employee And Pensioner Services on the CFMS Portal
Employee services: The employee can know their payslip, Income of the year, loans.
Pensioner services: Impensioner services, pensioners will be able to find their pension slip, Annual income, Pension details, Pension portal.
Stake holder services.
How to get AP CFMS Training?
The CFMS Portal is also offering some training online to make the people aware of this portal, In order to get access to that, follow the below steps
Go to the official website of Comprehensive Financial Management System (CFMS) or click on this link cfms.ap.gov.in
After this, you have to choose the option TRAINING available in blue color columns.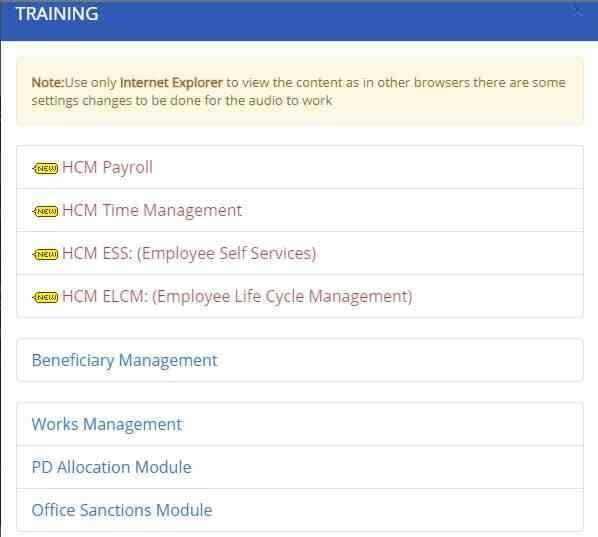 Now, click on the option you want to surf like works management, PD Allocation module, office sanctions module, debt management etc
Follow those procedure given on that particular module by choosing the options one by one.
Select DEMO or PRACTICE you want.
And then watch the video to get some ideas and practice it by selecting the PRACTICE option.
We hope, you are provided with all the information related to AP CFMS Bill Status Online. If you find this article beneficial then show your support by bookmarking our website. Also post your queries related to Andhra Pradesh CFMS in the comment.