The Government of West Bengal has announced a new Scholarship Program named Aikyashree Scholarship to help the students in the state. Today here in this article, we will provide you information related to Aikyashree Scholarship 2021-22, Aikyashree Scholarship Application form, Eligibility Criteria, Registration, Login at wbmdfcscholarship.org. So read this article completely.
The Application form for Aikyashree Scholarship are being invited in the state by the concerned department. Interested candidates who have been waiting for this scholarship scheme can now be able to apply for this scheme by filling the online application of this Scholarship Scheme.
As Aikyashree Scholarship 2021- 22 offers the application procedure online, you don't have to visit any office to get befits of this scheme. This ensures the increase in number of beneficiaries. The State government will provide various benefits under this Scholarship.
Details of Aikyashree Scholarship 2021-22
| | |
| --- | --- |
| Name of the scheme | Aikyashree Scholarship |
| Started by | Government of West Bengal |
| Organization | Minorities Development and Finance Corporation |
| Objective |  To offer scholarships to school and college students |
| Category |  West Bengal Govt Scheme |
| Official Website |  https://wbmdfcscholarship.org/ |
WB Aikyashree 2021-22
The Minorities Development and Finance Corporation, West Bengal acts as the nodal organization for Aikyashree Scholarship Program. Because they take care of this scheme with support from the government, this scholarship offers financial support to the students. It benefits both School as well as college students. Although many scholarship schemes have been running by the government. This stands out from other ones with its benefits.
Aikyashree Scholarship Application form Online | Last date
The candidate who would like to do their higher education but because of the family's financial condition they could not afford it. If you are one of them, then you can apply under Aikyashree Scholarship 2021-22. With this scholarship, you will be able to study up to Ph.D.
The scheme mainly aid all the minority students such as Muslim, Christian, Buddhist, Sikh, Jains, and Parsis students.
Note: The scheme can be availed only by the students who are from West Bengal.
Aikyashree Scholarship Application Form
Students from other states are not eligible to apply for this scholarship scheme. The minority students in the state will get major advantage from this scheme. This will improve their level of education.
Aikyashree Scholarship Form 2021-22
West Bengal Pre- Matric Scholarship
Under this West Bengal Pre- Matric Scholarship, the students from class 1 to class 10th will get an assistance amount ranging from 1100 Rs to 11000. This amount varies according to the subject taken by the student.
West Bengal Post Matric Scholarship
The West Bengal Post Matric Scholarship assist students from class 11th to Ph.D. Also under this scholarship, the students pursuing ITI, diploma, Graduation, Post Graduation, M.Phill, B.ed, etc can apply and get assistance amount of 16500 Rs according to the subject taken by the student.
Bigyani Kanya Medha Britti Scholarship
Under this scholarship program, only female students gets the benefits, Kanya, means girl, as the depicts, this scheme is available only for girl students.
Swami Vivekananda Merit Come Means Scholarship
If you are in Class XI to Post Graduate students, an amount ranges from 12000 Rs to 60000 Rs will be given according to the subject that has been chosen by the students. As this scholarship is tied with various other programs. The financial amount varies from program to program.
The Scholarship amount depends on the subject taken by the candidate at present. If it is based on the previous class structure than the eligibility is based on the marks criteria for which scholarship your are applying.
Aikyashree Scholarship Online Apply
The students who are from poor family and belonging to minority category can apply for this scheme to avail benefits. This scholarship has been started for students who are in Class 1 to Ph.D. Here we will assist you in registering for this scholarship so that you will get benefited by this scholarship.
Aikyashree Scholarship Program Features
The following are some of the key features of Aikyashree Scholarship Program
This scholarship program is designed specially for Minority Class students for their development.
From this scheme, the beneficiaries will get financial assistance from the West Bengal Government
Only students who are Muslim, Christian, Buddhist, Sikh, Jains, and Parsis can apply.
The main objective of this scheme is to develop the Minority Students in the state.
The educational status of these poor students will be improved.
Self Defense also be taught in this scholarship.
Students who are willing to crack entrance exams can participate in this scholarship, as prior training for entrance exams will be given under this scholarship.
This scholarship ultimately improves the literacy rate in WB state.
WB Scholarship for Minorities
Akiyashree Scholarship eligibility criteria
The following are the eligibility criteria criteria that is set for the West Bengal Akiyashree by the concerned department. You must meet this eligibility criteria before enrolling for this scholarship
The candidate must be a student and he/she should be from West Bengal State.
He/She must be studying in school, College or institution currently which is recognized by the governing board or university.
Those students who is from class 1 to Ph.D. level are eligible under this scholarship.
In the previous class, the candidate should have 50% marks
The student's family income should not be more than 2 lakh per annum.
This scholarship is for minorities. so people from SC/ ST / OBC can apply.
For females till class 12th, the WB Government has started Kanga Meghan Barriti Yojana.
Hindi students will also get financial help through Hindi Scholarship program.
Aikyashree Scholarship Necessary Documents
In order to apply for the West Bengal Aikyashree Scheme, you need to have the following documents below
Aadhar Card
Ration Card
Family Income certificate
Current class Fee Receipt
Self Certified Community Certificate
Bonafide Certificate
Phone Number
Self-attested certificate of previous class mark sheet.
Passport size Photo
Bank Account details
Prior to registration, the applicant have to make a Login id on the official website. Only with this login id, the candidate can log in to wbmdfcscholarship.org website.
Aikyashree Scholarship Registration online
Follow these step by step procedure given below to register online for the Aikyashree Scholarship Scheme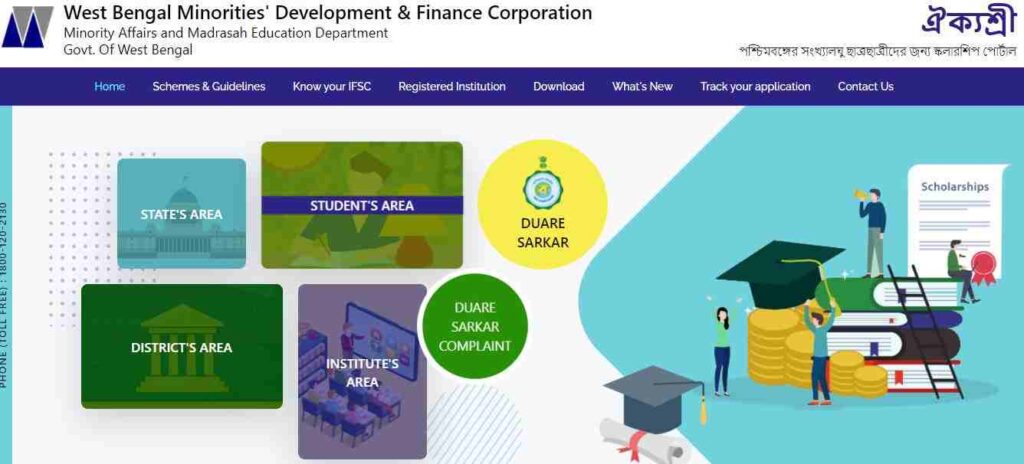 Once you see the home page of the website, scroll down until you see "Scholarship"
Click on it, after which a new page will open where you need to click "New Registration" option available on the top right corner.
After this, choose your district name where your institute is located.
Now, you will see an Application form on your screen.
Fill all the information asked in this form and make sure to enter your mobile number and Bank account details correctly.
Upload all the necessary documents asked.
Once you are done with all the above steps, click on "Submit" button.
After successful submission of your application, an application number will get generated by the system.
Note this number somewhere as it is required to access your application in future.
Aikyashree Helpline Number
If you have any queries related to Aikyashree Scholarship Program, you can reach out to the helpline number and mail ID provided below.
Aikyashree Scholarship Helpline Toll-Free Number: 1800- 120- 2130
Email: [email protected]